Manu Ginobili announces two-year deal with Spurs
San Antonio Spurs guard Manu Ginobili tweets that he's coming back to the Spurs on a two-year deal.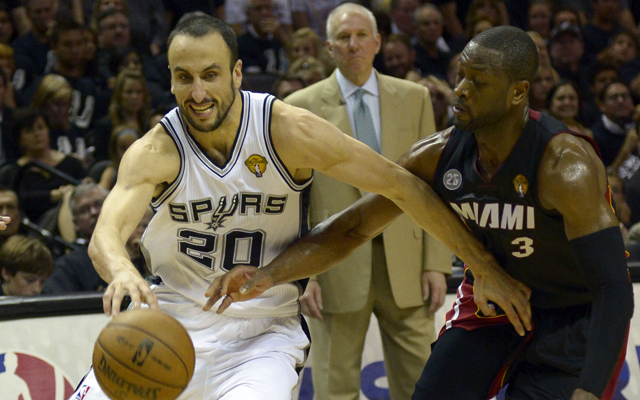 Spurs guard Manu Ginobili announced on Twitter he's reached a two-year deal with the Spurs to (most-likely) finish his career. Details on the deal haven't been announced yet. 
Thrilled to announce that as I always hoped, I'm gonna stay with the @spurs for two more years. #gospursgo.

— Manu Ginobili (@manuginobili) July 3, 2013
There was speculation that Ginobili could retire after his season, a possibility he left open for the second half of the season and playoffs. You wonder if the Spurs had held on to their five-point lead with 28 seconds left in Game 6 of the Finals if he would have felt he could go out in peace. 
As it stands, this move along with the re-signing of Tiago Splitter on Tuesday sets up the Spurs to essentially bring the same cast as last season back. There will be minor signings to fill out the bench, and the Spurs are always capable of surprises, but the cenral core remains the same. No matter Ginobili's deal, his role on the team is likely to be reduced. Ginobili struggled considerably with injuries and his game last season, as it was clear age has taken its toll. 
Griffin and the Clippers are at a crossroads

"He left because he wanted to be with James Harden," the Los Angeles coach said

The Warriors have shown that simply putting talent together isn't enough
Hayward will be in Miami this weekend, while Utah and Boston also have meetings scheduled

Sacramento signs Serbian to 3-year, $36 million contract while passing on Ben McLemore

Free agency is around the corner, which means there could be a ton of significant moves coming...