Manu Ginobili 'sad and disappointed,' international career likely over
Spurs guard Manu Ginobili wrote about being unable to represent Argentina at the FIBA World Cup.
• 2 min read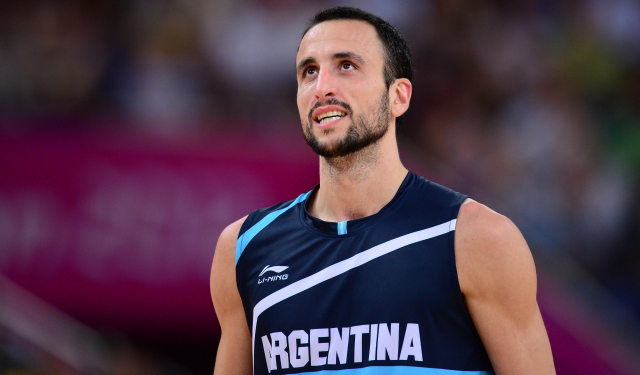 Offseason: Free Agency | Latest from Ken Berger | Rumors
In a column for La Nacion, San Antonio Spurs guard Manu Ginobili described himself as "sad and disappointed" about being unable to compete for Argentina in the 2014 FIBA World Cup due to a stress fracture in his right leg, via the San Antonio Express-News' Dan McCarney. The Spurs invoked a clause in the agreement between FIBA and the NBA about players with pre-existing injuries to hold him out of the competition, and Ginobili decided not to fight it.
I very much regret the bad news. I wanted to say goodbye to the team on the court and be with my friends, but it cannot be. I'll be with the team as long as possible, trying to add from the outside and supporting at all times.

…

For the bone to be well sealed and not remain any doubts, I had spent 42 days without being able to train as usual, no jumping or running, so as not to put stress on the fibula. And that made me reach the training camp in a painful physical condition. When one is 37 years old, it is not easy to return and start from nothing, so we tried to accelerate a little at a time. I started the physical work in the pool acceptably, but when I went to the treadmill there began to emerge some pain, mostly in the right ankle and left foot.

I did a lot of treatment and a lot of stretching,  and it seemed to be a little better, but when on Wednesday I began to force more to run and shoot in the gym, at the end of the training session the pain reappeared in the same place of the original fibular fracture. That basically gave the final blow to the expectations I had to assemble some kind of plan to play in Spain, since asking the mediation of FIBA made almost no sense given that obviously the injury isn't completely healed.
Ginobili had some hope that he'd be able to suit up for his country one last time, but he sensibly realized the risk wasn't worth it. The veteran will need to be as healthy as possible to help San Antonio defend its championship, and it would be silly to put that in jeopardy by battling through an injury in the offseason. It's absolutely understandable that he'd want to play, but the Spurs protected him from himself and he ended up making the right call anyway. 
This is likely the end of his international career, and it has been a spectacular one. The highlight was the gold medal at the 2004 Olympics in Athens, but there's really been more than a decade of sustained success for the Argentinian national program. Much like Ginobili's NBA team, the way that Argentina shared the ball was unforgettable. With how Ginobili led the group that included Luis Scola, Pepe Sanchez, Carlos Delfino, Andres Nocioni, Walter Hermann, Fabricio Oberto and Pablo Prigioni, his impact on basketball in his country cannot be overstated.
It appears Wall will be staying in Washington for a long time

Apparently James wasn't aware that Kyrie was considering a change of scenery

The Knicks reportedly have interest in the Cavs star, but do not want to give up their uni...
The Knicks, Spurs, Timberwolves and Heat are reportedly his preferred teams

Altman has been serving as the Cavs' assistant general manager under David Griffin

It was a calm Friday in the NBA world ... and then it wasn't