Marcin Gortat: '(Unfortunately) we gotta play at home' in Game 6
Wizards center laments having to go back to Verizon Center where Wizards have struggled.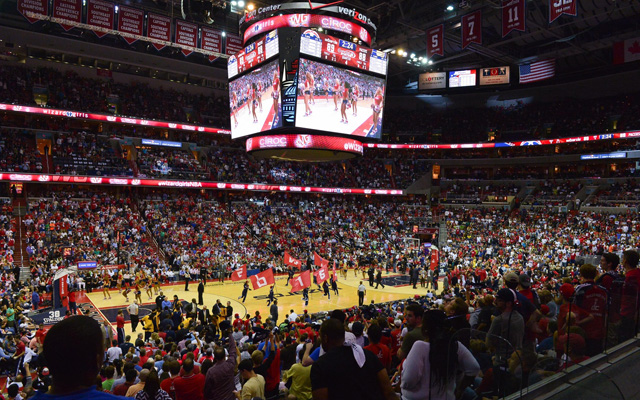 Marcin Gortat dominated the Indiana Pacers in the Wizards' Game 5 victory Tuesday night (102-79). He was a beast for the Wizards, and he and John Wall have given their team a chance to get back in this series after falling down 3-1. After all, they're headed home for Game 6, that's what every team wants in that situation, right?
Except Gortat didn't put it that way. Given the Wizards's struggles at home in the playoffs (1-3 in the postseason at the Phone Booth), Gortat described it as "unfortunate."
"I'm glad I was part of that team that won today and dominated, but again, we can't get excited," Gortat said. "We can't get excited. We gotta do the same thing in D.C. it's not gonna be easy. It sounds crazy, but unfortunately we gonna play at home. And everybody knows how we play at home. So it's gonna be tough, but we gotta win it."
via Marcin Gortat says it's unfortunate Game 6 is in Washington.
It's too bad they have to go home to a raucous crowd that for the first time in years not only actually cares that they exist, but has gone super rabid-crazy about the team. The environment in Game 3 and 4 was great... the Wizards just got clocked.
Can they buid on the momentum of Game 5 to force it to a Game 7? Will the crowd actually help Washington? Or was Game 5 more about Indiana's lack of effort, and a road performance seals this thing? It's an interesting subplot in a playoffs that make no sense from that standpoint.
Show Comments
Hide Comments
Kyrie Irving went nuts in Game 4 and capped it off with a nasty highlight

Boston is better on defense without Thomas, but it obviously missed him in the second half...

The Cavs are up 3-1, in part thanks to Irving's astonishing performance.
Maybe the best player of all-time has his best season, and he's not even in the discussion...

Cleveland took a 3-1 lead on Boston and will look to close it out Thursday

Boston had a 16-point lead at one point