Mario Chalmers: 'I don't remember throwing an elbow' against Parker
Heat guard says he doesn't remember throwing an elbow which earned him a flagrant foul vs. Tony Parker, admits to frustration with foul trouble vs. San Antonio.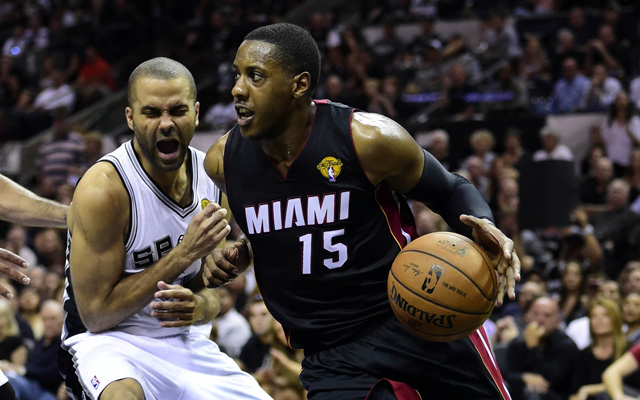 After being called for a flagrant foul for an elbow to the Spurs' Tony Parker in Game 2, Miami Heat guard Mario Chalmers said after the game he didn't "remember throwing an elbow."
"I don't know (what happened)," an incredulous Chalmers said after the game. "They say I hit him with an elbow, but I don't remember throwing an elbow, I was just trying to get to the rim."
The play was called as a flagrant foul, and after video review, it was confirmed. Parker missed two free throws that helped turn the tide of the game, then exited for a rest shortly thereafter. 
Chalmers was tagged with three fouls in Game 2 and admitted to being "frustrated" with how the games have been called so far in the series. He finished with five points and four assists in Game 2, a 98-96 Heat win to even the series 1-1.
Show Comments
Hide Comments
Our Latest Stories
Longtime GM says team has to win more than 17 games but there are no real standards for im...

Former Bull won't respond to comments he is no longer a 'frontline' player.

The staff at the Q will get some championship bling
The Trail Blazers look to improve on last year's success

Teams are working to maintain honor and respect for the anthem and players' rights of expr...

This offseason, we've said goodbye, at least for now, to a revolutionary group of power fo...