Mario Chalmers' struggles deepen in Game 3 loss
Heat point guard can't manage to find his feel for the game, and it's hurting Miami in big ways as they fall down 2-1 to San Antonio.
More NBA Finals: Kawhi dominates | Game 3: Spurs 111, Heat 92 | Heat defense?
Mario Chalmers has to have at least a decent game at some point, right? After struggling in Games 1 and 2 both from the field and with foul trouble, more issues erupted for the Heat guard in Game 3 of the NBA Finals, a 111-92 loss for Miami to fall down 2-1 in the best-of-7 series.
It's difficult to pinpoint what's going wrong for Chalmers, even for the guard himself.
"I think everybody else is doing their job and I'm being that guy that's not helping out. I don't want to be that guy," Chalmers told reporters after the game.
Chalmers pauses when asked where he is. "Still at the drawing board."

— Ethan J. Skolnick (@EthanJSkolnick) June 11, 2014
The Heat are now three games into the Finals. They're running out of time to get Chalmers back on track, and Norris Cole isn't exactly a salve for the burns. Chalmers' primary issue in Game 3 was poor decisions and luck. Open corner 3s wouldn't fall. When he needed to pass, he would shoot. When he needed to shoot, he would pass. And he would constantly manage to find his man, but guess wrong on whether to close or play the drive.
Things are cascading for Chalmers, who is set to be a free agent this summer. If he doesn't figure out how to make an impact and have "a good Rio game" he'll be entering free agency on a surprising down note for someone who has started at point guard for the Eastern Conference champions four years in a row.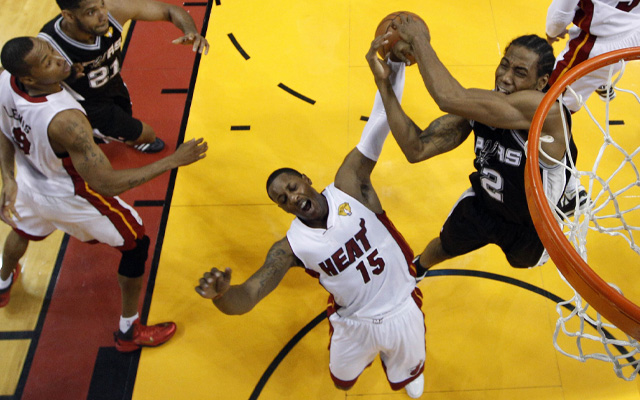 Could this have an effect on Carmelo Anthony's future in New York? What about Kristaps Por...

Chicago needs to decide whether to pay Rondo $13.4M next season or buy him out for $3M

Rose played in 64 games for the Knicks before a season-ending knee injury
Durant chose an odd way to shout out his former OKC teammate

Teams are reportedly trying to bring in the veteran forward in an effort to weaken the War...

LeBron has reportedly already ruled out any chance of joining the Clippers