Mark Cuban not a fan of the sleeved uniforms
Mavericks owner blasts Christmas Day uniforms for being skin-tight, and that they shouldn't have been used in-game.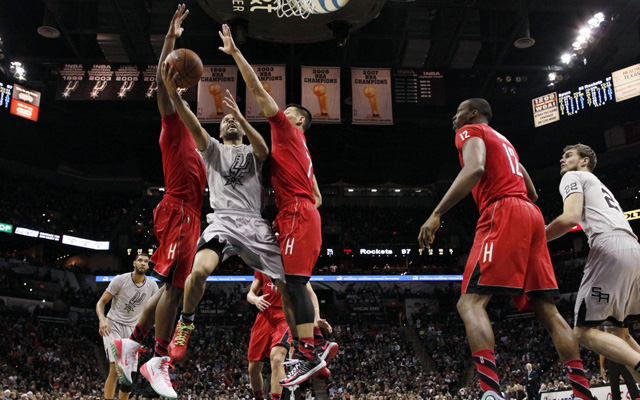 Mavericks owner Mark Cuban is not a fan of the Christmas Day sleeved uniforms. 
"Hated them," Cuban said before the Mavs hosted the San Antonio Spurs on Thursday night. "I just thought it made our guys look more like a high school wrestling team or a college wrestling team."

Cuban, whose Mavs had Christmas off, understands the NBA is attempting to market the short-sleeved jerseys to fans who might not want to wear tank tops. He just doesn't believe it's necessary for superstars such as LeBron James and Kevin Durant to wear the T-shirt-style jerseys in games to get them to sell.

"I could have thought of better ways to sell [the short-sleeved jerseys] and a lot of different ways by having them in a casual-wear situation," Cuban said. "We would have been better off, if we want people to wear them casually, to get the trainers and everybody else to wear them to show them in a realistic setting. So I would have done it a little differently, but we'll see what happens."
via Mark Cuban of Dallas Mavericks says NBA made mistake with new jerseys - ESPN New York.
Most everyone had the same opinions on the sleeves, and LeBron James complained that the sleeves limited his ability to shoot. Cuban also likened the outfits to wrestling uniforms and said that high schools wouldn't want their students wearing the skin-tight uniforms to class.  He's got a point. 
Hopefully, the NBA and adidas have gotten this fad out of their system to experiment. It was worth a shot, it wasn't good, let's all move on. Let's jut hope no one bought the awful things. 
Show Comments
Hide Comments
The bucket pushed the Spurs' lead to seven, and the Grizzlies never got that close again

The series shifts back to Washington for a pivotal Game 5

Trade Kanter? Re-sign Roberson? What about Westbrook?
The Celtics and Bulls meet in Boston for a pivotal Game 5

Here is how to watch the Celtics-Bulls series

The Bulls point guard's thumb is still broken, with significant swelling