Mark Cuban says Mavericks targeting two-year plan for title contention
Mavericks owner Mark Cuban says that the Mavericks are working on a two-year plan to return to title contention.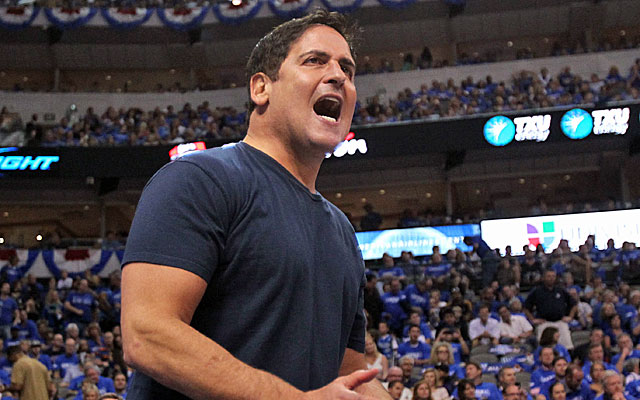 The
Mavericks
went from title contender to lottery squad in two years. Now, after their first rebuilding effort was a complete failure, Mark Cuban has indicated that the plan is to get the Mavericks back to title contention in two years. From ESPN Dallas: 
"We want to be a championship team. We've never said we have to be a championship team this year," Cuban said Saturday on ESPN Dallas 103.3 FM during his first interview since the Mavs' season ended. "We want to be a better team, a top-seed team. If we get the top free agent, that doesn't leave us a whole lot of flexibility to add a lot of players, but we have a good nucleus around them. We know we'll have a good team, but we won't know if we have a great team.

"If you look at this like a two-year plan, then we think we're on a track to have a great team by the end of next year."
via Mark Cuban has two-year plan to turn Dallas Mavericks into title contenders - ESPN Dallas.
So the idea is to create a secondary core using the free agency market and then pursue the final piece. It's a complicated process, and the Mavericks need to land something major to secure the core. 
They need something beyond Dirk Nowitzki whom they can count on. Defensive stopper, versatile wing, pure scorer, post presence, playmaking distributor. With Shawn Marion getting older, the Mavs need to find someone who can be the second-best player behind Dirk, even if they eventually add a star to move them down to No. 3 behind Nowitzki. 
Cuban has gambled heavily on being ahead of the curve when it comes to understanding how the CBA changes, most of which come into effect this summer, will limit roster movement. He has put flexibility first and foremost. But the time's coming for him to commit to players so the Mavs can make another swing with Nowitzki still able to make a considerable impact. 
Unfortunately, Antoine Walker was not involved

The newly minted league MVP said he wanted to enjoy his big moment

Westbrook became the second player ever to average a triple double for an entire season.
Jeff Van Gundy is stepping back into coaching

When it comes to naming MVPs, particularly in basketball, we can't seem to figure out what...

Russell Westbrook finally receives validation