Mark Cuban says the D-League is a better option than NCAA basketball
In calling the NCAA "hypocritical," Mark Cuban says the D-League is a better option for prospects than college basketball.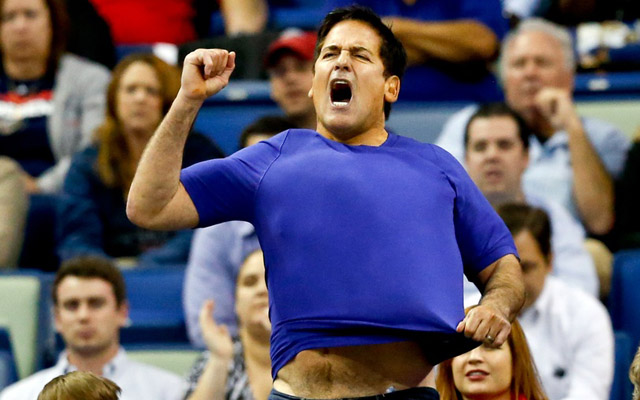 This might come as a surprise to you, but Mark Cuban has opinions on something. 
This time, he's teeing off on the NCAA, saying it would be better for prospects to play in the D-League rather than spend time playing college basketball.
"I think what will end up happening -- and this is my opinion, not that of the league -- is if the colleges don't change from the one-and-done, we'll go after the one," Cuban said, via ESPN Dallas. "The NCAA rules are so hypocritical, there's absolutely no reason for a kid to go [to college], because he's not going to class [and] he's actually not even able to take advantage of all the fun because the first semester he starts playing basketball. So if the goal is just to graduate to the NBA or be an NBA player, go to the D-League."
With the way the current rules are set, a player is required to spend one year removed from either his high school senior year and be 19 years old. The minimum age requirement for the D-League though, is 18. 
"We can get rid of all the hypocrisy and improve the education," Cuban said. "If the whole plan is just to go to college for one year maybe or just the first semester, that's not a student-athlete. That's ridiculous.

"You don't have to pretend. We don't have to pretend. A major college has to pretend that they're treating them like a student-athlete, and it's a big lie and we all know it's a big lie. At least at most schools, not all. ... But we can put more of an emphasis on their education. We can plan it out, have tutors. We can do all kinds of things that the NCAA doesn't allow schools to do that would really put the individual first."
Cuban has a strong point. The one-and-done rule hasn't been especially great for either the NBA, or college basketball. So much that it's an issue that will soon be reinvestigated once the NBA players association names a new executive to tackle the so-called "B-list" topics that were set aside in the collective bargaining agreement in 2011. 
"We'd have to think it through," Cuban told ESPN Dallas. "I'm not trying to jump to conclusions and say I've analyzed this whole thing out. I haven't. But what I'm saying the interest is you're to maximize your ability for your chosen profession but you'd also have to make a commitment of some sort one way or the other, either to life skills training and/or academic training."
It's not an unprecedented move. Latavious Williams became the first player to go from high school straight to the D-League, foregoing college. He was drafted by the Tulsa 66ers, and then was selected in the second round by the Thunder in 2010. He hasn't appeared in an NBA game and currently is playing in Spain for Cajasol Sevilla. 
Maybe not a proven successful path, but imagine if Jabari Parker or Andrew Wiggins chose to go that way. They might be more NBA ready players come June than having spent a season in college. 
The counterargument: You don't enjoy near the same visibility and national exposure in the D-League, as Kansas and Duke are consistently on national TV. Also: What if you're a player that goes to college for a year and sees that you're maybe not as prepared for the NBA as you thought. So you spend two or three years on scholarship and wind up with a college degree. That's a good thing.
But, there's also this counter-counterargument: 
"Then you wouldn't be under the stupidity of the NCAA," Cuban said. "There's no reason for the NCAA to exist. None."
Show Comments
Hide Comments
The playoffs are getting interesting

The Cavs and Warriors have both swept their first-round opponents

Houston has a 3-1 lead. Here's how to watch the rest of the series
The series returns to Los Angeles for a pivotal Game 5

How to watch the first-round series between L.A. and Utah

How to watch the first-round series between San Antonio and Memphis