Mark Cuban wants one final fine from David Stern
Mark Cuban wants one last fine from David Stern before the commissioner retires.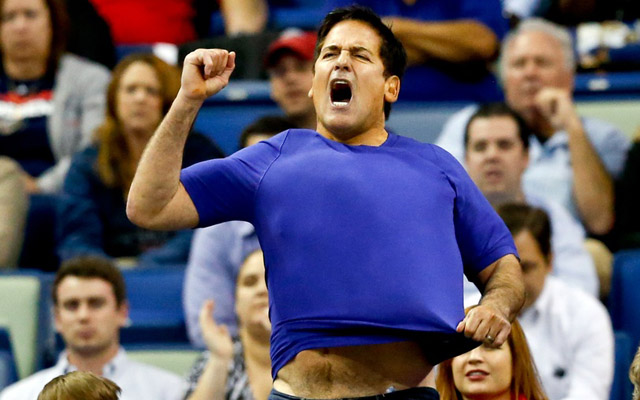 Mark Cuban has been fined more over the last 15 years than any other NBA owner.
And he wants one more.
With David Stern set to retire on Feb. 1, Cuban told ESPN Dallas that he wants one last fine from the commissioner as a parting gift. 
"We talk about it all the time," Cuban said. "I'm going to have one final fine before he leaves."
Said Stern:"I know he is trying, but our muffin fund coffers are overflowing."
As owner of the Mavericks the last 14 years, Cuban has been fined 19 times totaling about $1.8 million. The biggest fine Cuban ever receieved was a $500,000 hit for saying he wouldn't hire referee Ed Rush to run a Dairy Queen. Cuban's last fine came in Jan. 2013 for tweeting after a loss to the then-Hornets, "Im sorry NBA fans. Ive tried for 13 years to fix the officiating in this league and I have failed miserably. Any Suggestions ? I need help."
In the interview with ESPN Dallas though, Cuban was pretty positive about his so-called nemesis, saying he'd give Stern an 85 or 90 out of 100 if he were grading his tenure. 
"I like David a lot," Cuban told ESPN Dallas. "David is focused. He's smart. He's driven. He's goal-oriented. He's relentless. Those are good qualities in a lot of respects. I think, for the most part, he's done a lot of great things.
"He's always been receptive [to me]. We kind of have two relationships. There's the public relationship about the officiating. And then there's the business side. On the business side, we get along great.
"On the officiating side, that's probably the one thing I'd say he's failed miserably on, but I understand where he's coming from, because he doesn't have a horse in the race. Win, lose or draw, as long as the business of the NBA is good, he's happy. I obviously have a completely different perspective, and that's where we clash. He doesn't care who wins. That's the difference, because I do.
"But on the business side, we've agreed far more than we've disagreed."
Warriors, who are not leaning on taxpayers for the arena, plan to pay back the fee after 30...

In a documentary short, Redick explains part of the reason he left the Clippers for the 76...

The Cavs are reportedly nearing a deal with Rose, but the Lakers will try to persuade him to...
The former NBA All-Star launched a successful second career overseas

Tom Thibodeau confirmed locking up Wiggins is the next step for Minnesota after a busy sum...

Rose may soon be off the market. Will he play for the Cavs, or will it be the Lakers ... or...