Mark Jackson refutes wanting to ban Jerry West from practice
There is a lot of unrest in Warriorsland, and all of it is centered around Mark Jackson.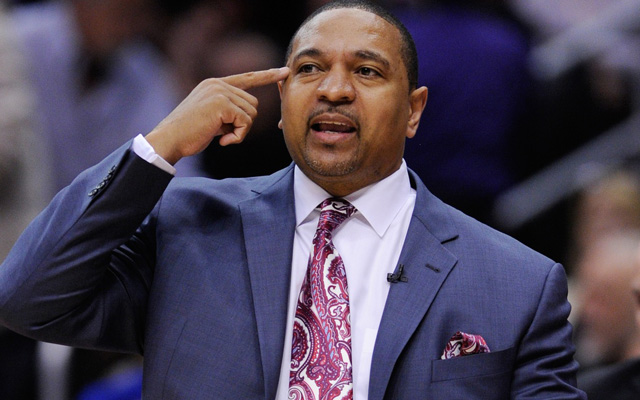 Grantland reports that the situation in Golden State with the coaching staff is about as toxic as one might think, with Mark Jackson having tried to fire assistant coach
Brian Scalabrine 
without grounds in front of the players, and Jackson not wanting front office man and NBA legend Jerry West at practices. 
Jackson made a show of firing Scalabrine in front of players and other coaches, but he had no real grounds, and the front office made Jackson find a compromise, per a source familiar with the matter: demoting Scalabrine to the D-League. In addition, Jackson has asked that Jerry West, a high-level adviser in Golden State, not attend most practices and team activities, sources say.

The tension with (assistant coach Darren) Erman got weird. Midseason, the team moved Erman's parking spot to a less convenient place, likely at the behest of Jackson or one of Jackson's allies on the staff, per multiple sources familiar with the matter. They began changing his duties in strange ways.

The atmosphere has bordered on poisonous, though to the credit of Jackson, his staff, and his players, it has not spilled onto the court. The team plays hard, they're very good, and they have a chance to make noise in the playoffs despite the ill-timed injury to Andrew Bogut. The players have almost universally spoken up, and quite loudly, in Jackson's defense.
via The Silver Hammer: The Banning of Donald Sterling and Unrest in These Playoffs «.
OK, to catch you up quickly: There's been bubbling rumors that
Warriors
brass is unhappy with Jackson after the team failed to live up to expectations, compounded with a difference in approach between the two sides. It's gotten to the point where there's widespread speculation that the Warriors could fire Jackon after this season. Meanwhile, Jackon lost Scalabrine and Erman within weeks of each other, less than a month before the playoffs. 
Erman was terminated for allegedly recording conversations with the coaching staff, and was subsequently hired by the
Celtics
. Jackson refuted the allegation about Jerry West Tuesday... carefully, but
USA Today 
reports there's some truth behind the report.
"That's a lie," Jackson told USA TODAY Sports after the Clippers' 113-103 Game 5 win Tuesday. "Come on. That's a lie. That's disrespectful."

When asked directly if West — who joined the team when the group led by Joe Lacob took over ownership in the summer of 2010 — was welcome at his practices, Jackson said, "Absolutely. He has been at the practices. He's there. That's a flat-out lie."

A person with knowledge of the situation confirmed that West has been at recent practices. That is in accordance with the initial report, as it was not indicated that West was absent from all of the team's sessions or activities. The person spoke on the condition of anonymity because of the sensitive nature of the situation.

Still, the sheer number of proverbial fires that Jackson finds himself trying to put out doesn't bode well for his coaching fate. While he was adamant that he had not made any such request regarding West, the wide and strong belief within the organization is that Jackson would prefer not to have the legendary figure overseeing his operation from a close distance.
via Mark Jackson denies banning Jerry West from Warriors practice.
West being at the practices and Jackson wanting him there are two different matters. At the same time, he's the coach and if he wants to exert his authority over practice, that's not an unreasonable desire in a vacuum. But we're not in a vacuum, even if Jackson thinks this situation sucks. 
There's a pattern emerging here, and whether it's the result of Jackson's approach, or the pressure from front office sources altering his behavior, this doesn't seem headed for a happy ending. 
The Warriors lost Game 5 to the Clippers Tuesday. 
Show Comments
Hide Comments
The commissioner's infamous veto of the Paul trade could have been different

Warriors are intent on keeping a mind like Jerry West around

LaVar has always been proud of his son, which Magic says isn't a problem as long as it doesn't...
Curry was cookin' on the pan and stole the show when she took over the mic

Shaq says LeBron isn't comparable to any one legend, rather a mixture of several greats

Kevin Love says the Cavaliers are on the same level as the Warriors: 'We match up well'