Mark Jackson says Andre Iguodala is 'closer and closer' to returning
Warriors wing Andre Iguodala has missed time with a hamstring strain and the Golden State defense has fallen apart since.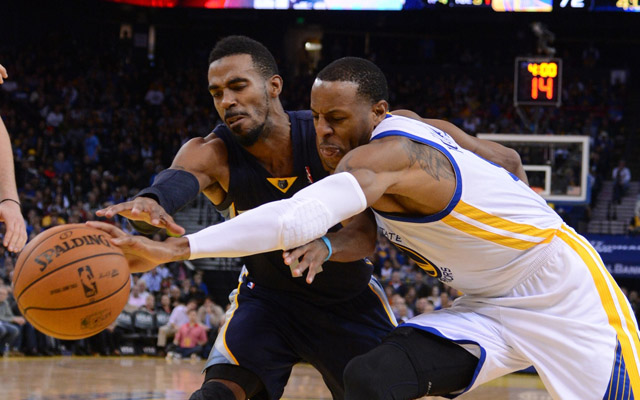 Warriors swingman Andre Iguodala has been out with a hamstring strain and the results have been traumatic on the Golden State defense. The Warriors had the fourth-best defense in the league before his injury on Nov. 22, and have the 20th best in the four games since, giving up nearly 10 points more per 100 possessions with him on the shelf. The good news is that he could be back relatively soon to get them back on track. From the Contra Costa Times: 
Warriors coach Mark Jackson said Sunday that injured Andre Iguodala, who did not make the trip for Sunday's game against the Sacramento Kings, is getting "closer and closer" to returning.

"We'll stay true to the process as usual and look forward to having him back," Jackson said of Iguodala, who suffered a strained left hamstring against the Lakers on Nov. 22, the latest setback for an injury-plagued Warriors squad.
via Warriors' Iguodala getting 'closer,' Mark Jackson says - ContraCostaTimes.com.
Getting him back would be a huge boost and put the team back on track. They've lost five of their past seven and had to squeak by the Kings on Sunday. The Warriors have have some bad luck (Stephen Curry's concussion, Andrew Bogut's suspension) but they've also been unable to hold onto the defensive rope with Iguodala out. Hopefully his return puts them right back together again, but there's always the risk of lost momentum. 
What was looking like a thrilling season for the Warriors has hit a few speed bumps, but if they can get Iguodala back, they might pick up where they left off. 
The Thunder plan to offer the recently named MVP a massive five-year extension worth around...

Paul opted out of the final year of his contract last week

The Jazz are looking at other options in case they don't re-sign George Hill
Need a two-way player to stretch the floor? From J.J. Redick to C.J. Miles and P.J. Tucker,...

Everything you need to keep track of during the all NBA offseason madness

Phil Jackson has made it clear he wants Anthony out of New York, but would prefer to trade...