Matt Barnes on Knicks coach Derek Fisher: 'I don't talk to snakes'
Memphis forward Matt Barnes isn't going to try to patch things up with Derek Fisher on Saturday.
• 1 min read
Memphis Grizzlies forward Matt Barnes told the New York Daily News that he won't try to talk to New York Knicks coach Derek Fisher when their teams meet on Saturday. He once again called Fisher a "snake" and said they'll cross paths when he retires:
"I don't talk to snakes," Barnes told the Daily News.

…

"I know I got to keep my mouth shut because then he'll run and tell," Barnes said. "So we're focused on playing that team (the Knicks). And when I'm retired, him and I will cross paths again."
If you're unfamiliar with the ugly Barnes-Fisher saga, here's a rundown:
In early October, the two of them got into a fight at Barnes' estranged wife's home in Los Angeles. His estranged wife, Gloria Govan, was reportedly dating Fisher, and the New York Post quoted a source saying Barnes "went crazy." Barnes told ESPN, however, that he went over there because he was worried about his sons.
In November, Barnes said that Fisher should not have told the police and the NBA about the incident, as they are "two grown men who should have handled two grown men's business," via the Los Angeles Times. In late December, the league suspended Barnes for two games. 
On New Year's Day, Barnes posted a long caption on an Instagram photo, where he called 2015 the "worst year of my life" and called Fisher a snake and a snitch, saying that the whole thing "played out like a bad reality show." Govan is a former reality star.
On Wednesday, Yahoo Sports reported that the NBPA filed a grievance on Barnes' behalf to get his suspension rescinded. On Thursday, Barnes said that the players association's appeal "means a lot," but he highly doubts he'll "be reimbursed a dime of that suspension money," via ESPN.
In his interview with the New York Daily News, Barnes said that he doesn't want the league to discipline Fisher, but he "always knew the NBA would come down hard on me." Over the last three months, Fisher has repeatedly declined to comment on the situation.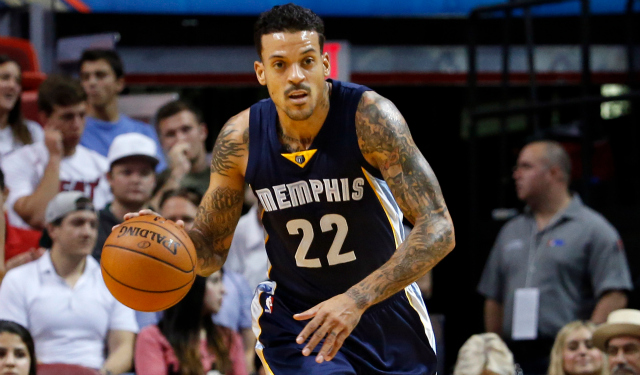 Show Comments
Hide Comments
Our Latest Stories
Longtime GM says team has to win more than 17 games but there are no real standards for im...

Former Bull won't respond to comments he is no longer a 'frontline' player.

The staff at the Q will get some championship bling
The Trail Blazers look to improve on last year's success

Teams are working to maintain honor and respect for the anthem and players' rights of expr...

This offseason, we've said goodbye, at least for now, to a revolutionary group of power fo...