Mavs coach Rick Carlisle: David Blatt firing is embarrassing for the NBA
Dallas coach Rick Carlisle defended David Blatt on Friday.
• 3 min read
Dallas Mavericks coach Rick Carlisle, the president of the NBA Coaches Association, defended the work of former Cleveland Cavaliers coach David Blatt on Friday. Blatt was fired despite a 30-11 record, and Carlisle spoke for more than five minutes about what he considered an unfair dismissal. 
Here's an excerpt of his comments, via the Dallas Morning News' Brad Townsend:
"It's a shocker. It's just a real shocker.

…

"I mean, he did a tremendous job just from a strategic standpoint. If you look at his record, this is bizarre, but he has the second-best coaching record (percentage-wise) of all time in the NBA behind Phil Jackson. He's got a higher winning percentage than Red Auerbach and Pat Riley, a whole laundry list of the greatest coaches ever.

"The bottom line with this is that I know a couple of things about coaching in this league. I know integrity. And I know knowledge. I can't speak to the internal things that (might) have gone on in Cleveland. I've read some of the comments that came from the Cavaliers. Teams have a right to make changes.

"But David Blatt is going to be a highly sought-after coach this summer, if an when there are openings _ if he chooses to stay. After this, you just hope a guy like this is still open to coaching in the NBA.

…

"Blatt's a great guy and one of the best coaches in history. He'll be a Hall of Fame coach, no question, just purely on his European record and international record and Olympic record.

"But in the meantime, everybody will have opinions and so forth. The other side of it is, a good man perhaps has been liberated and is now going to have some great options and he'll find a much better situation here if he wants it. And a guy like him deserves that."
Five things:
1) It was indeed a shocker that Blatt lost his job, and it's the opposite that Carlisle came to his defense. As president of the coaches association, this is part of his job. He did the same for Kevin McHale when the Houston Rockets fired him earlier this season, and he is generally the guy who comes out with the strongest statements on these matters. I can't recall a more forceful one than this.
2) Other coaches spoke up for Blatt, too. Boston Celtics coach Brad Stevens told reporters, "I would think he's not going to be unemployed long," via CSNNE's Jimmy Toscano. Orlando Magic coach Scott Sklies said, "Back in my day, you used to have to at least lose games before you got fired," via the Orlando Sentinel's Brian Schmitz. 
3) In fairness to the Cavs, they're not the only team that has fired a coach with a good record. The Golden State Warriors seem to have done OK for themselves since replacing Mark Jackson with Steve Kerr, for example.
4) Carlisle added that he is "very fortunate" because Mavericks owner Mark Cuban didn't bail on him years ago and has given him a long-term contract. Carlisle is the most secure man in his profession not named Gregg Popovich, and every year he sees many of his colleagues lose their jobs. What he has in Dallas is rare, and the Blatt situation shows once again that being on the same page with the front office and ownership -- and the star player, of course -- is as important as anything in coaching. 
5) "Liberated" is an interesting term to use. Remember shortly after LeBron James signed in Cleveland, when Blatt was saying in interviews that he was the luckiest man in the world? So much has changed since then, and perhaps he was never as lucky as he looked.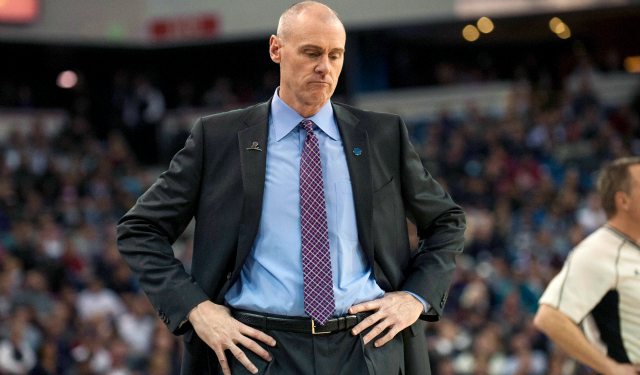 Show Comments
Hide Comments
The Spurs have homecourt advantage, and will host Game 1 Monday night at 9:30 p.m. ET

All-Star guard flew to Washington after Game 6 vs. Bulls to attend his sister's funeral Sa...

Some love for the Rockets over the Spurs, and at least one expert says the Cavs are going...
Ball is expected to be one of the top picks in the NBA Draft later this summer

The Bulls guard fielded questions about his future during exit interviews on Saturday

The two teammates were still up playing at 4 a.m.