Mavs, Knicks complete trade involving Tyson Chandler, Calderon
In what is expected to be a massive trading frenzy in the NBA, the Mavericks and Knicks struck first with a deal sending Tyson Chandler back to Dallas.
Berger: Dallas can make strong run at Melo | Grading the trade
In what is expected to be a massive trading frenzy in the NBA, the Mavericks and Knicks struck first with a deal sending Tyson Chandler back to Dallas.
Update: 8:25 p.m.: The trade is official. New York president Phil Jackson commented in a statement:
"The journey to build this team for the upcoming season and beyond continues," Jackson said. "We have added players with this move that will fit right in to our system while maintaining future flexibility.

"We would like to thank Raymond and Tyson for their time and hard work with the organization over the past few years."
The Mavericks' official Twitter account welcomed back Chandler:
Welcome back @tysonchandler! #welcomebackTY pic.twitter.com/PnMrkZbKxB

— Dallas Mavericks (@dallasmavs) June 26, 2014
Update 5:51 p.m.: Multiple sources including USA Today, Yahoo Sports, and ESPN report the deal is done. 
Update 5:15 p.m.: The Mavericks will also include two second-round picks in the deal, according to Ken Berger of CBSSports.com
Mavs get best player in deal (Chandler) and shed biggest salary obligation (Calderon). Thus, Mavs send Knicks 34th and 51st pick in draft.

— Ken Berger (@KBergCBS) June 25, 2014
So to finalize, the deal is:
Mavericks get: Tyson Chandler, Raymond Felton
Knicks get: Jose Calderon, Samuel Dalebert, Shane Larkin, No. 34 and No. 51 in the draft. Huge haul for New York who sheds long-term salary but picks up 2015 salary (when they're reportedly going to pursue Kevin Durant) and adds two picks in a deep draft. 
---
Update 4:55 p.m. 
Ken Berger of CBSSports.com confirms the deal is being finalized, and that the deal is "a go." 
---
ESPN reports that the Mavericks are in "advanced talks" to acquire center Tyson Chandler from the New York Knicks in a trade.
Sources tell ESPN that Mavericks are in advanced talks on deal to complete trade that will bring Chandler and Raymond Felton to Dallas

— Marc Stein (@ESPNSteinLine) June 25, 2014
Proposed deal would send two Mavs starters to Knicks -- Sam Dalembert and Jose Calderón -- as well as prized young guard Shane Larkin

— Marc Stein (@ESPNSteinLine) June 25, 2014
The move is sure to send shockwaves throughout the league a day before the NBA draft if completed. The Mavericks have been said to be interested in reacquiring the man who anchored their defense in 2011 on their way to a title before he left to sign with the Knicks in free agency. 
Acquiring Felton and Chandler takes up $17.7 million in cap space, but the Mavs are flush with it, with few players on long-term contracts, and Calderon himself was set to make just over $7 million next season. 
For the Knicks it gets them a quality young point guard in Larkin and a stable option with the veteran Calderon who can shoot and pass, and Dalembert, whose $3 million contract is only guaranteed at $1.8 million. Should they agree to a buyout, they could clear up to $7.9 million with this move, which would help in adding a free agent next to Carmelo Anthony to help convince him to stay. 
The Mavericks have to swallow Raymond Felton's contract with one more guaranteed year at $3.6 million and a player option for 2015-2016 at $3.9 million. But it gets them the rim protector they've been looking for and will make the fanbase ecstatic to have the former Defensive Player of the Year back in blue. 
If the deal is completed, the NBA offseason is off with a bang. 
One agent says it's close, another says it's done; Tyson Chandler & Ray Felton to Dallas for Sam Dalembert, Jose Calderón & Shane Larkin.

— Frank Isola (@FisolaNYDN) June 25, 2014
Expectation is that the Knicks-Mavs deal gets done today, source says.

— Howard Beck (@HowardBeck) June 25, 2014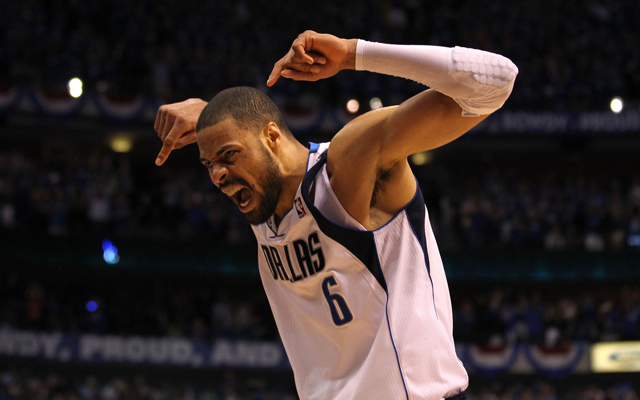 Show Comments
Hide Comments
Thunder fans used the term 'cupcake' in reference to Durant after he left OKC in free agen...

There appeared to be some wishful thinking on the part of Charlotte general manager Rich C...

Thompson is one of the best shooters in the league, but it appears dunking isn't his speci...
Cuban was willing to part ways with employees who leaked ahead of the official announcemen...

Draymond wasn't mad about the move, though. He was mad about the way he heard about it

All-Star forward was sent from the Bulls to the Timberwolves on draft night