Mavs' Mark Cuban will wait until February to complain about refs
Dallas Mavericks owner Mark Cuban has ideas for why his team isn't getting to the free throw line enough but will wait to complain and receive a fine.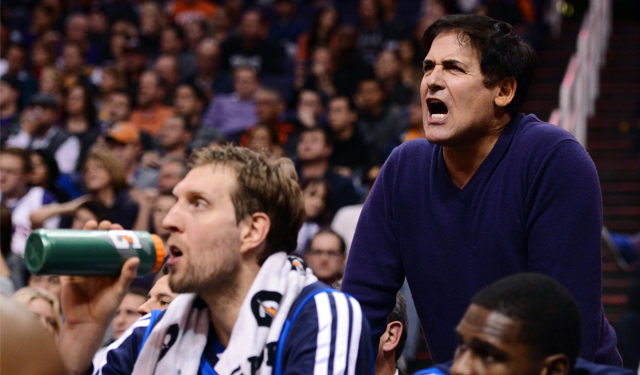 Dallas Mavericks' owner Mark Cuban has no problem stating an opinion about NBA officiating that his checkbook will have to support. He's been fined time and time again for complaining about the officiating against his team. It seems like every season, we have at least one story about Cuban voicing his opinion and the league making him pay for it with a hefty fine. We may have to wait a while this season before he comes through on this tradition. 
Eddie Sefko of the Dallas Morning News has comments from Cuban about the lack of free throws his Mavs have taken this season and that the Dallas owner won't voice his complaints on the matter until February. He's tired of seeing his team, specifically Monta Ellis, attacking the rim and not receiving calls he believes the team should be getting.
Cuban, as expected, was a bit incredulous that the Mavericks got only 10 free throws against Toronto, despite outscoring the Raptors 60-40 in the paint, usually a sign that a team is aggressively attacking the basket.

"There's a lot of reasons, none of which I can talk about," Cuban said. "Monta Ellis [is] getting crushed all the time. We go to the rim. Monta leads the league in attacks of the rim, and Monta didn't go to the line that much. It's not like we're settling for jumpers. It's just not going our way."

Asked how he could fix the problem, Cuban said: "I have a lot of ideas, but I'll wait until February before I get fined for them."
He may have a point in some respect. The Mavericks average just the 24th highest attempts in the restricted area but they are fourth in attempts in the paint but outside of the restricted area. They're clearly getting into the middle of the defense at a pretty decent clip, but have just the 28th best free throw rate in the league. Considering the Mavs are third in the NBA in free throw percentage, getting to the line more would certainly benefit their attack.
Monta Ellis does have the second highest free throw rate of his career this season but Dirk Nowitzki has the second worst free throw rate of his 16 seasons in the NBA. It will be interesting to see how long Cuban holds his tongue before letting it write another check to the NBA that they'll gladly deposit. 
Show Comments
Hide Comments
Somehow, the Celtics have become a significantly better defensive team with Thomas on the...

Will Iggy stay with Golden State? Does anyone have any idea what to do with Derrick Rose?

Hoiberg was asked about Isaiah Thomas possibly carrying the ball during Game 5
Celtics point guard does not need anyone to hype up his defense

The Bulls had it, they had it ... and ... it's gone

The Bulls found they were without hot water following their Game 5 loss