Metta World Peace says he's headed for a buyout with Knicks
Former Laker says his agent is working on a buyout with New York.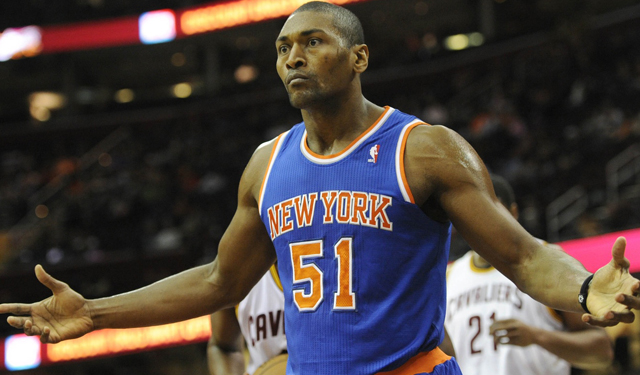 When Metta World Peace signed with the Knicks this summer after being waived using the amnesty clause by the Lakers, it was a coming home party. It was supposed to be where he finished his career, a place he could be loved and help the Knicks get over the hump with his defense. 
Today MWP told Twitter he's working on a buyout with the Knicks. 
Thank NYC for everything. Thanks for having me I will always be grateful... My agent is working on a buyout. No disrespect to the city Luv U

— Metta World Peace (@MettaWorldPeace) February 22, 2014
My agent just informed me this release could happen any hr now. I just want to say "Thanks for everything"

— Metta World Peace (@MettaWorldPeace) February 22, 2014
His brother Daniel went on a Twitter rampage Saturday, criticizing everyone in the organization, calling Mike Woodson "a puppet," saying owner James Dolan is manipulated by people, etc. 
The Knicks, everyone!
MWP has appeared in just 29 games this season, averaging 4.8 points and 2.0 rebounds in a little over 13 minutes per game. As messed up as the Knicks are, there's a reason the Lakers used the amnesty on him and a reason he's struggled to get minutes since returning from injury. Then again, could he honestly be worse than what we've seen from New York? 
His brother tweeted that Indiana, Miami, and the Spurs are in play if the buyout is finished. A return to Indiana would certainly be... interesting. 
Show Comments
Hide Comments
The Bulls guard fielded questions about his future during exit interviews on Saturday

The two teammates were still up playing at 4 a.m.

Clippers point guard helped make sure Pierce's career would last at least one more game
The Celtics star coach looks ready to take the throne as one of the great coaches in the l...

Utah couldn't clinch at home, and the Clippers live another day

The Celtics coach appeared to be upset when the chants broke out