Metta World Peace says the Lakers are going to the Finals
Metta World Peace thinks the Lakers will be in the Finals this season. Wait, what?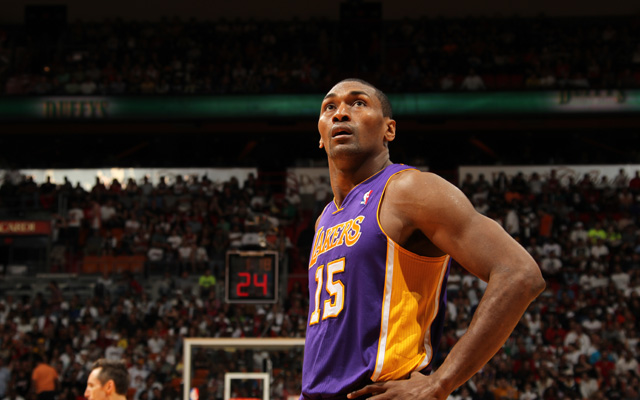 He might've been amnestied by them, but Metta World Peace apparently holds no hard feelings toward the Lakers.
Speaking at a promotional event for his children's book in New York, World Peace predicted that the Lakers would be making a trip to the Finals.
"I think the Lakers are going to go to the NBA Finals," World Peace said, via ESPN New York. "I think Kobe [Bryant's] gonna be healthy, they're gonna get Pau [Gasol]. The Lakers are gonna make a big trade like they always do. They're gonna get another good player, boom, boom, and they're gonna go to the Finals. I believe it. Kobe's gonna come back, he's gonna play team ball, and Pau's gonna play well."
Picking the Lakers, historically speaking, is typically a good idea. But this year? They just lost Dwight Howard, Kobe is coming off a major injury and the rest of the roster isn't all that great. It's a bit of a reach to have them in the playoffs, much less the Finals. 
But hey, Metta being Metta, you know? 
Show Comments
Hide Comments
The sign, however, says Jordan never flopped -- which is incorrect, as the film shows

Curry's turnover was a key moment in the Warriors' Game 7 loss last season

Curry is having an impressive postseason campaign, averaging 28.6 points per game
They have consistently posed problems for the Golden Boy, but can they keep it up?

Kerr hasn't coached since Game 2 of the first round against the Trail Blazers

Parker was injured during Game 2 of the Spurs' series vs. the Rockets