Miami Heat coach Erik Spoelstra will coach the East All-Stars
With Miami's victory over the Toronto Raptors on Sunday, it gave the Miami Heat sole possession of the top spot in the East and Erik Spoelstra plans for All-Star Weekend.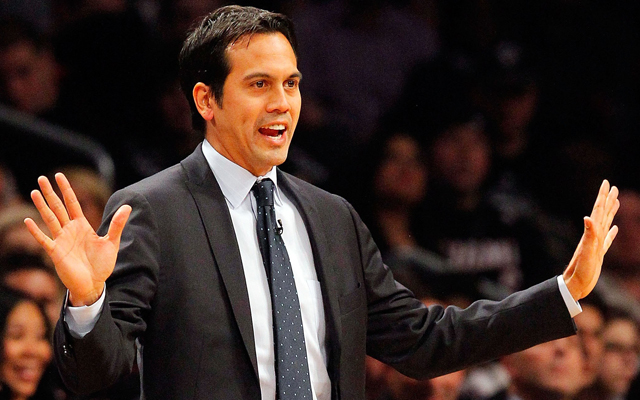 Erik Spoelstra is already accustomed to coaching stars.
(Getty Images)
Miami Heat coach Erik Spoelstra is used to trying to surround LeBron James, Dwyane Wade, and Chris Bosh with supporting players that will emphasize their strengths as All-Star caliber players and maximize the team's potential. After winning a title over the Oklahoma City Thunder last season, nobody outside of maybe Reggie Evans is questioning whether or not Spoelstra can be the right coach for a team full of egos.
So it seems like a natural fit that Spoelstra will be the coach of the Eastern Conference All-Stars when the 62nd NBA All-Star Game happens on Feb. 17. When the Miami Heat beat the Toronto Raptors on Sunday, it locked in the Heat with the best record in the Eastern Conference by the Feb. 3 deadline for naming All-Star Game coaches. 
He'll be matching wits with Gregg Popovich, who was guaranteed the Western Conference coaching position because the Spurs have the best record in the West and Oklahoma City Thunder coach Scott Brooks wouldn't have been able to coach the team even if the Thunder had held the top spot out in the West. Coaches are not allowed to coach the All-Star Game in consecutive years.
The Heat fought off Mike Woodson and the New York Knicks, who are a half game behind Miami in the East after the weekend's games.
With that responsibility comes great power and influence for Spoelstra. Since Rajon Rondo is out of the All-Star weekend with his ACL tear, the East coach will be asked to name a replacement in the starting lineup. And he can choose to do whatever he wants. He could easily slide Kyrie Irving into the starting lineup and keep a point guard out there. Or he could reward his own guy, Chris Bosh, and insert him into the starting lineup. 
He'll also most likely have to contend with the mind games of Popovich in the West. Will Pop send the starters home and just play the Western Conference reserves? Will he rest the starters early in the fourth quarter and never bring them back in? Could we see a hack-a-somebody in the All-Star Game?
This is Spoelstra's first All-Star Game coaching gig. Popovich is 1-1, after coaching a victory in 2011 and a loss to the East in 2005. 
Show Comments
Hide Comments
Replacement bill of HB2 still concerning to LGBTQ groups, civil rights advocates

The Warriors will attempt to claim their second title in three years

The Warriors are heavy favorites to reclaim the title, according to Vegas and SportsLine
UCLA coach Steve Alford said he was never contacted by LaVar while Lonzo was playing for h...

There are plenty of MVP candidates to go around in this talent-loaded series

Golden State is a juggernaut, but here's how Cleveland can compete