Miami Heat pick up contract option for G Norris Cole
The Miami Heat have picked up the third-year contract option for guard Norris Cole.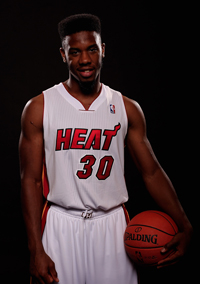 The Heat want to keep Norris Cole around for another year.
(Getty Images)
To no one's great surprise, the flattop will be sticking around down in South Beach.
The Miami Heat announced that the third-year contract option for guard Norris Cole had been exercised. The move keeps Cole with the Heat through the 2013-14 season.
Cole, 23, was acquired by the Heat in a 2011 draft-day trade with the Minnesota Timberwolves. A spark plug, high-energy reserve guard with a standout haircut, Cole averaged 6.8 points and 2.0 assists in 65 appearances for the Heat as a rookie last season. He started two games during the regular season but saw his playing time cut during the postseason from 19.4 minutes per game in the regular season to 7.9 games in the playoffs.
Miami picked up Cole's option with weeks to go before the Oct. 31 deadline. The timing of the move underscores how easy this decision was for the Heat. With the Big 3 trio of LeBron James, Dwyane Wade and Chris Bosh all locked into long-term, big-dollar contracts, the Heat need as many quality players with smaller contracts as possible. Given that Cole proved he could be a rotation player and the fact that his contract is on the set rookie scale, he provides the right combination of skill and value.
Cole will continue to play behind starting point guard Mario Chalmers.
Show Comments
Hide Comments
The excitement was just too much to handle, apparently

Westbrook noticed something the players all had in common

The reserve guard has missed the last 11 games for the Clippers
Sounds like the Knicks need to figure out what's going on with their star forward

The future Hall of Famer opened up about his post-NBA life

Boston's star guard addressed the media for the first time since his sister's death