Mike D'Antoni calls Dwight Howard leaving the Lakers 'mind-boggling'
Mike D'Antoni expressed a lot of confusion as to why Dwight Howard would leave the Lakers.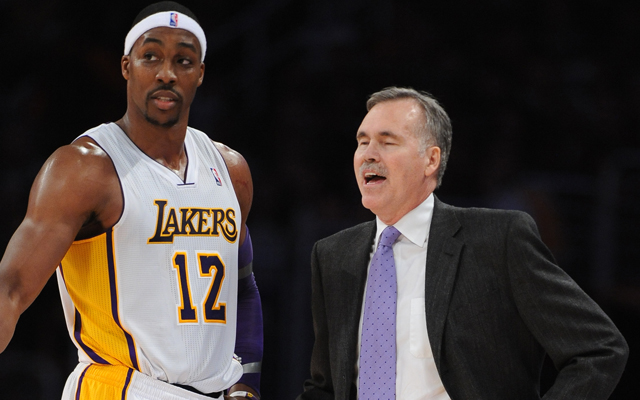 Dwight Howard's exit from the Lakers was kind of unprecedented. Mainly for one reason: Nobody leaves the Lakers, unless they're asked to leave. 
And not only did the Lakers ask Howard back, they basically begged him. They put up billboards, they brought in celebrities, they staged meetings, they put together presentations, they may have even pitched him a TV show. 
But alas, he left anyway. And it's left some confused. Specifically, Mike D'Antoni. 
"It's hard for me to sit here and criticize or even to understand why he left a place like L.A.," D'Antoni told ESPN LA 710 radio Tuesday, via ESPNLA.com. "That's kind of mind-boggling a little bit, but that's in his DNA and what he wants to do."
One reason it's a bit "mind-boggling" is that the Lakers could offer Howard a full extension of five years, $118 million while the Rockets offer was only four years, $88 million. 
So clearly, for Howard, it wasn't about the money. It was about fit, it was about team, it was about culture.
"Everybody has got to make that decision," D'Antoni told the radio show. "You can debate it all you want. Only Dwight knows. Obviously he didn't think he would be as happy here as he will be in Houston. That might be the case and he had to make that decision. There will be a lot of speculation, we tried it, it didn't work out and we go forward. So be it. You hate it. Dwight's one of the better centers in the league and it would have been a long-term thing, but I looked at it like, 'OK, you don't have Dwight but you got Pau [Gasol].' So, we'll see. In the short run, we'll see what happens. In the long run, obviously 10 years from now Dwight might still be playing and maybe Pau is retired, but everybody has got to do [what's best for them]."
Without Howard, the Lakers were forced to move on quickly as general manager pieced together a roster with veteran minimum contracts and maintained big financial flexibility for next summer.
But in the present, D'Antoni is going to have to hope his incredibly old team can get healthy -- specifically Kobe Bryant and Steve Nash -- and see if his system can eventually make role players better, even though it didn't at all last season as the offense and defense remained inconsistent and unproductive. 
And he wonders why Dwight Howard ever left. 
Show Comments
Hide Comments
How do the Cavaliers flip the script for a second straight year?

Boston lacks the size, rebounding and rim protection necessary to take on bigger lineups

What happens when the Death Lineup comes in? Can Kyle Korver keep it up?
Fox is widely considered a top 10 prospect in the NBA Draft

This looks strikingly familiar, huh?

A very familiar Finals showdown is set to begin on June 1