Mike D'Antoni calls out Pau Gasol over effort
Lakers coach tells media there's no reason for the malcontent center to "not play hard."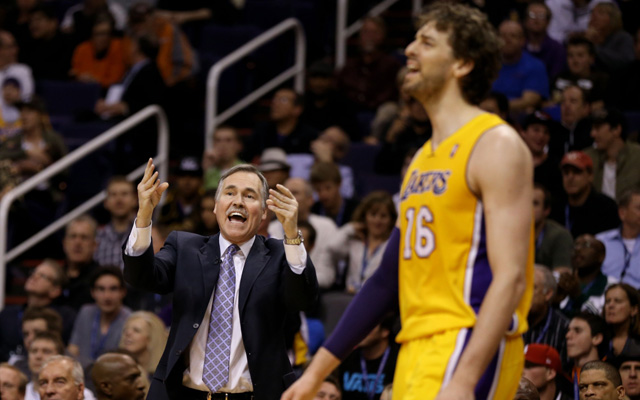 Last year, Pau Gasol was unhappy under Mike D'Antoni. The reasons were myriad: he was injured, he couldn't play next to Dwight Howard, he wasn't getting the ball in the block enough, it was D'Antoni's system. This year, Dwight Howard is gone. He was supposedly "in great shape," and ready to be the best player on the Lakers until Kobe Bryant came back. 
He's averaging 14 points on 14 shots, shooting 42 percent from the field, with nine rebounds, and three assists per game. The rebounds look nice... but his scoring is a train wreck. 
And of course, Gasol is blaming the system, saying he's still "uncomfortable" with his role. On Friday, D'Antoni had had enough. 
Lakers forward Pau Gasol has made it clear in recent days that he still isn't comfortable with his role in Mike D'Antoni's offense. Lakers coach Mike D'Antoni has heard it all before, and it's getting old.

"The biggest thing is, everybody, to a man, we've just got to play harder and worry about things less," D'Antoni said after the Lakers morning shootaround, Friday in Oklahoma City. "Hopefully we do that tonight."

Asked specifically about Gasol's concerns about being utilized more in the post, where he feels more comfortable and effective, D'Antoni said, "That's one thing, if they just don't want to do it that way. Then you have to accept it or not. But there's no reason to not play hard."

"The fact that I'm not getting the ball in the post affects directly my aggressiveness," Gasol told the Los Angeles Times on Wednesday. "When I'm not getting the ball where I want to, where I'm most effective, where I can bang guys and utilize my skill, that affects my aggressiveness and overall intensity."
via Los Angeles Lakers' Mike D'Antoni on Pau Gasol complaints -- 'Play harder' - ESPN Los Angeles.
Gasol openly expressed disappointment with the Lakers last year for hiring Mike D'Antoni instead of Phil Jackson. He has complained about his role in the offense for over a year. 
For what it's worth, NBA.com's STAT VU data shows Gasol with 4.5 "close" touches this year. Tim Duncan gets 4.8. David West gets 3.7. Via Synergy Sports, Gasol is shooting 34 percent in the post this year, while spending the most of his touches there, at 36.3 percent. So Gasol is literally getting the ball where he says he wants it, and literally performing horribly in the spot that he says he needs the ball.
So maybe, you know, it might be time to give up the ghost.
The reality is that in fall of 2010, Pau Gasol was a dominant player, arguably the best big man in the league. Then the 2011 playoffs happened, and the sweep to the Mavericks in which Dirk Nowitzki stole his milkshake and poured it on him. Gasol battled personal issues in that series. Since then, he's never been the same. His stats were fine, but he wasn't the same player.
Maybe it's just health. Maybe he needs a change of scenery, but it's hard to fault D'Antoni for saying a guy who has been dragging his feet for over a year isn't playing hard. If Gasol wants to understand his struggles, he needs to look in a mirror.  
Show Comments
Hide Comments
Series prices show Dubs light years ahead

Green responded that he's 'the modern day Draymond Green'

Our experts predict whether the Jazz can compete with Golden State, along with the rest of...
Breaking down key matchups as the second season reaches the conference semifinal series

Pierce's 19-season run in the NBA ended Sunday as the Clippers bowed out of the playoffs

Utah overcame its relative lack of experience with a balanced, deep and versatile roster