Mike Woodson expects Amar'e Stoudemire to play in Game 4 vs. Heat
Knicks coach Mike Woodson says Stoudemire will return from fire-extinguisher injury for Game 4 vs. Miami.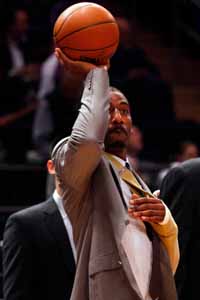 Amar'e Stoudemire could be back for Game 4.
(Getty Images)
Amar'e Stoudemire
missed Game 3 against the
Heat
after lacerating his hand on a fire extinguisher, in one of the most embarrassing injuries in
NBA
playoff history. There were multiple reports which indicated the
Knicks
doubted Stoudemire would be available for the rest of the series. But Friday, coach Mike Woodson said that Stoudemire could make another appearance in this series.  
Woodson says he thinks Amare will play sunday

— Howard Beck (@HowardBeckNYT) May 4, 2012
The decision to play Stoudemire isn't really worth any sort of debate. The injury isn't likely to be affected by his playing or impact him long-term. Saving Stoudemire from one more game with rest isn't pivotal since, well, there's a pretty good chance the Knicks will have anice long summer break after it. 
The Knicks played better defense in Game 3 Thursday without Stoudemire, until the fourth quarter when
LeBron James
took over and it would have taken some sort of mythical creature to stop what James did. The offense was slightly worse, but it's hard to see Stoudemire making any sort of notable impact in Game 4.
Still, at least the Knicks won't have to wonder what could have been had Stoudemire not gone postal on the fire extinguisher case. The Knicks bizarre season continues.
Show Comments
Hide Comments
The two best point guards in the East go at it in a series sure to be filled with drama.

Breaking down key matchups as the second season reaches the conference semifinal series

The second round of the 2017 NBA Playoffs tips off Sunday at 1 p.m. ET, with Game 1 of Cel...
The Spurs have homecourt advantage, and will host Game 1 Monday night at 9:30 p.m. ET

All-Star guard flew to Washington after Game 6 vs. Bulls to attend his sister's funeral Sa...

Some love for the Rockets over the Spurs, and at least one expert says the Cavs are going...