Mike Woodson expects to remain the Knicks coach
Buzz has started circulating that Mike Woodson's days are numbered in New York. But he says he's heard nothing of the sort.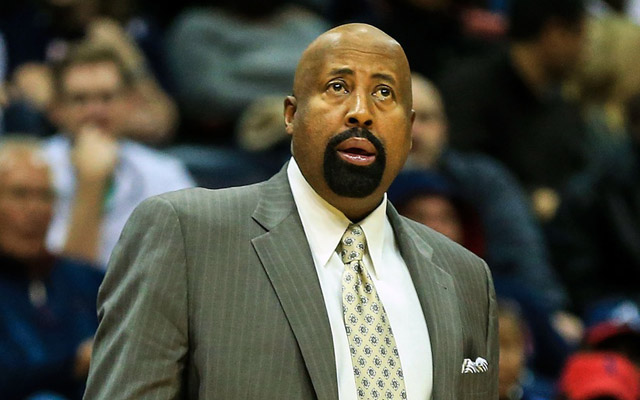 With the Knicks sitting at 20-31, and showing limited signs of progress, the chatter has grown to a low roar that Mike Woodson will soon be fired.
One report pegged it to potentially happen before the trade deadline. Another noted that Carmelo Anthony recently met with owner James Dolan to discuss the team's future. The writing appears to be on the wall for Woodson, and unless something changes quickly with the team's performance, he could be out. 
But as he said Sunday in Oklahoma City, he expects to remain the coach of the Knicks until told otherwise.
"Sure I do. Sure I expect to be coaching [the Knicks]," Woodson said Sunday. "Absolutely."
On the surface, that makes it seem as if Woodson has been told his job is secure, but the way he said it airs more of a I'm-here-until-they-tell-me-I'm-not kind of mentality. 
Asked if he feels he still has the support of the players and organization, Woodson felt he does.
"I think so. Again, I'm still coaching the Knicks. That's kind of how I look at it," he said. "If I didn't still have the support, I'd probably be looking for a job. But that's not the case. I think guys are in my corner and I've just got to keep pushing guys and do my job to the best of my ability."
But with the rumors building and the obviously poor performance of the team, Woodson's job security is limited. The team isn't good, and there has to be some concern that his situation and uncertainty is causing a bit of distraction. Woodson said he's talked some to his team about his circumstance, but not much.
"They know it's dangling," he said. "My theme to our players is Woodson's a big boy. He's been around the block a few times. It's a part of the business if it happens. You can't worry about me. It's never been about me. You've got to worry the makeup of your team and how you're competing on the practice floor and when you take it to the court. That's what counts. The coach, yeah he plays a major role but at the end of the day the players have to be together to play at a high level."
Show Comments
Hide Comments
How to watch the first-round series between the Raptors and Bucks

Green heckled Harkless over his reluctance to take 3-pointers

Durant missed Games 2 and 3 with a calf strain
The Atlanta fanbase appears ready to go for Game 4

Ibaka struggled during Games 3 and 4 in Milwaukee

For the first time, the NBA will be holding an awards show after the season