Mike Woodson matching starting lineups to opponents' size
Knicks coach going against established trends and data to match lineups to opponent.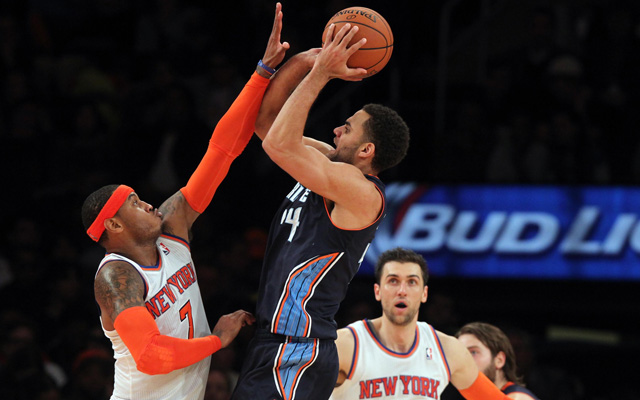 The worst kept secret in New York basketball the past year has been that the Knicks are substantially better with Carmelo Anthony at the four. It's just a fact, the Knicks are better when they go with small-ball lineups with Melo playing power forward. 
For example, with Melo and Tyson Chandler on the floor together, the Knicks are +20 according to NBA.com. This number drops dramatically with Andrea Bargnani on the floor with Melo either at power forward or center (-18). But that has more to do with Bargnani being terrible defensively than anything else. It's always been the case that the Knicks are better with small-ball lineups. The data showed the same last season, and it was plain to see if you prefer the eye test as well. 
Mike Woodson, though? Not convinced. 
Woodson says he's going to play a big lineup against teams w/a big front line, for now. He plans to go small (Melo at PF) vs. smaller teams.

— Ian Begley (@IanBegley) November 2, 2013
So it makes sense on the surface, right? "Against teams where we can't get killed defensively with their size, we'll use the small lineup. Against bigger teams, we'll counter with size."
Except their roster really just isn't designed to support big lineups for any length of time. Bargnani can play if he's next to a center, but they really only have Kenyon Martin behind Chandler at center. If they had signed another center instead of Chris Smith ... nevermind. 
Finally, it's pretty rare that coaches like to say "we're going to adjust what we do to the other team." Phil Jackson and Gregg Popovich are notoriously against that idea, preferring to always establish who you are and make the other team adjust. I appreciate the approach of not getting caught up with pride, it just seems odd to go away from what has consistently worked. 
It's not just the lineups and how they operate, it's how long they can sustain. But maybe this season is different. The Knicks face Minnesota Sunday with a traditional lineup of Kevin Love and Nikola Pekovic so expect to see the big lineup deployed first. 
Show Comments
Hide Comments
Will Iggy stay in Golden State? Does anyone have any idea what to do with Derrick Rose?

Hoiberg was asked about Isaiah Thomas possibly carrying the ball during Game 5

Celtics point guard does not need anyone to hype up his defense
The Bulls had it, they had it ... and ... it's gone

The Bulls found they were without hot water following their Game 5 loss

Wall finished with 20 points and 14 assists in win over the Hawks