Mind games or motivational genius? With Phil Jackson, it's both
Is Phil Jackson playing mind games with Carmelo Anthony? Of course he is, and there's nothing wrong with that.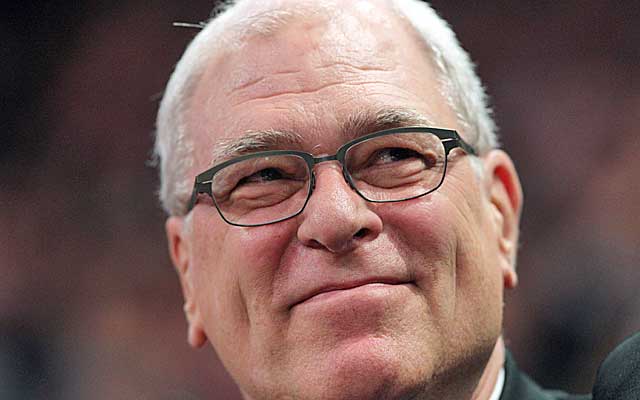 More free agency: Top 40 free agents | Top 20 PGs | Top 20 bigs | Latest news
Is Phil Jackson playing mind games with Carmelo Anthony?
I could've ended that sentence after the word "games," and the answer would've been an unequivocal "yes." Phil Jackson has made a career -- a very successful, lucrative career -- out of playing mind games.
During his championship reigns in Chicago and LA, Jackson routinely delivered motivational messages through the media. Often, he delivered them directly, in the form of books he used to dole out to his followers in the locker room. Phil's recommended reading list puts Oprah's to shame.
Way back when Jackson had an alpha male situation on his hands with Kobe Bryant and Shaquille O'Neal, the Zen Master introduced Shaq to the works of Friedrich Nietzsche, the great existential philosopher. As Bloomberg's Scott Soshnick pointed out in this story after the Knicks hired Jackson, the 13-time NBA champion gave Bryant a copy of Sun Tzu's "The Art of War," to teach him that "leaders cannot enjoy special treatment or amenity if they are to command the respect of the rank and file."
Word.
So now Jackson is at it again, deftly spinning Anthony's own words about his willingness to take less than a max contract to help the Knicks improve their supporting cast. There is a perception that Jackson showed up in New York and commenced trying to bully Anthony into taking a huge pay cut. Gregg Doyel calls Jackson's strategy "publicly shaming Carmelo Anthony."
Not really. It's just Phil being Phil.
The man who perhaps inspired Jackson to come out of retirement and chase another championship in New York, Pat Riley, did the same thing -- but without any prompting from his own superstar, LeBron James. In his season-ending news conference, Riley challenged James and the rest of the Big Three to "stay together if you got the guts. You don't find the first door and run out of it."
Some took offense to Riley's tactics. Heat fans feared that the man who put this band together in the first place was threatening to break it up by offending LeBron.
As far as I'm concerned, Riley and Jackson are both brilliant.
The collective bargaining agreement has capped the maximum player salary since 1999, so there is no way for Riley or Jackson to express extra appreciation to his respective superstar in the currency that players (and any professionals, really) relate to the best: money. In a cartel like the NBA, there is only so much to go around.
Another language that stars like James and Anthony understand is winning. Riley and Jackson have both done that at the highest level -- Riley with James as his disciple for the past four years.  
Then there is the issue of having your leadership and commitment challenged, and anyone who has ever played for Jackson -- from Michael and Scottie to Shaq and Kobe to Derek Fisher, Pau Gasol and Andrew Bynum -- can relate.
When Jackson was hired, Anthony said he was "on the same page" with Jackson and embraced the Zen Master's assessment that he "has another level he can get to." 
"With Phil's expertise, I can rely on him and talk to him and use him as a mentor to try to get to that next level," Anthony said at the time.
To me, this is the key statement about the Jackson-Anthony relationship that is being overlooked. It's far more important than the trite notion of whether Anthony will be "good for what his word is" as far as taking less than the max to stay in New York.
As we explored yesterday, the concept of "taking less" has been badly corrupted. When people hear Jackson challenging Anthony to be true to his word, there's this notion that he's trying to get Melo to re-sign at a $5-$8 million annual discount.
That's not how this works. Jackson knows it, Anthony knows it and Anthony's agent, Leon Rose, knows it, too.
If Anthony re-signs with the Knicks on a max deal -- five years, $129 million -- that doesn't make him a liar, a glutton, or a player who doesn't care about winning. It just makes him a businessman operating under the constraints of the rules that the players and owners agreed upon. James Dolan, after all, took part in negotiating the current CBA. (I'm not sure if he voted for it or not. Heat owner Micky Arison was one of five owners who voted against it.)
If Anthony takes slightly less to stay in New York, it will simply be an effort to reasonably approximate his value under the rules while preserving precious room for Jackson to add a significant free agent or two next summer. These are choices that players and management make all the time. It's something the Knicks have for decades failed to properly engage in: long-term planning.
So we'll see if Anthony is on board. He is beginning his free-agent tour Tuesday in the midst of an impressive contingent from Jackson's former team, the Bulls, including Derrick Rose and Joakim Noah.
Just note that if James leaves Miami or Anthony leaves New York -- both unlikely, in my opinion -- it won't be because they were scared off by the big, bad, championship-winning, mind-bending bully in the front office.
It'll be a calculated decision, the same kind that teams and executives are constantly and ruthlessly making about players.
As for taking less, do you want to know what taking less would really mean for James and Anthony under the current rules that were jointly adopted by the players and owners in 2011?
Leaving their respective cities for $30 million less than their current teams can pay them. In the end, this is what the old, shrewd basketball guys in Miami and New York know to be true:
Less in New York or Miami is still a lot more than the alternatives.
Show Comments
Hide Comments
And Grizzlies coach David Fizdale didn't exactly disagree

Toronto survives, but struggles to do so

San Antonio will face the Houston Rockets in the second round
The 40-year-old is coming up big in the playoffs

Toronto eliminated Milwaukee in Game 6 on Thursday

Surgery is to "repair core muscle-related injuries"