Minnesota Timberwolves waive guard Brandon Roy
The Minnesota Timberwolves have waived guard Brandon Roy.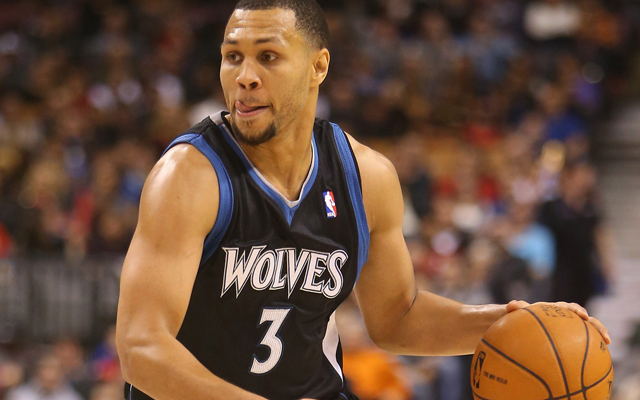 Former president of basketball operations David Kahn tried to make many low-risk, high-reward personnel decisions during his tenure with the Minnesota Timberwolves. From acquiring Darko Milicic to Michael Beasley to Anthony Randolph, the Wolves were constantly trying to catch lightning in a bottle while not offering up much in return. It's not necessarily a bad decision, but when you keep trying the NBA equivalent of "get rich quick" schemes and failing, at some point you need to take a different approach.
Another one of the low-risk, high-reward decisions that Kahn made was signing Brandon Roy to a two-year, $10.4 million deal last summer. After being amnestied from his six-year, $85 million deal with the Portland Trail Blazers and looking like his career was done, the three-time All-Star staged a comeback with the Wolves in the hopes of finding a way to capture the lightning that used to be his play on the court.
After playing just five games of the 2012-13 season, the Wolves have waived the 28-year-old Roy to free up a roster spot and some salary. From the team:
The Minnesota Timberwolves today announced that the team has waived guard Brandon Roy.

"We wish Brandon and his family all the best in the future," said Timberwolves President of Basketball Operations Flip Saunders.
Roy had language in his contract that he had to be active for 65 games of last season in order to guarantee the second year of his deal. He barely made it through the first couple of weeks of the season before needing a procedure on his knee. He was barely able to practice throughout the rest of the season, let alone be active for at least 65 games.
During his five games, he made just 31.4 percent of his field-goal attempts, missed all nine of his 3-point attempts and scored just 29 total points. He did manage to have the highest assist rate (28.8 percent) of his career, but it was his lack of scoring ability and defense that made him a liability on the court when he did actually play.
The 7-foot center will reportedly return to San Antonio after opting out his previous deal

Seattle longs for the NBA to return, but still sports a strong basketball following

Rose is reportedly being courted by the Cavs, Lakers and Bucks, among others
With the club reportedly pursuing Derrick Rose and LeBron James vexed, this news hits hard

Silver said personal political views shouldn't matter when it comes to the longstanding tr...

The Raptors' big man rolled into camp in a beat-up, 25-year-old Audi that he could barely fit...