Minor league ballclub mocks Heat fans leaving early with promotion
Heat fans can get into the Fort Myers Miracle baseball game on Thursday night if they enter through the exits, mocking Miami fans who bailed on Game 6 of the NBA Finals.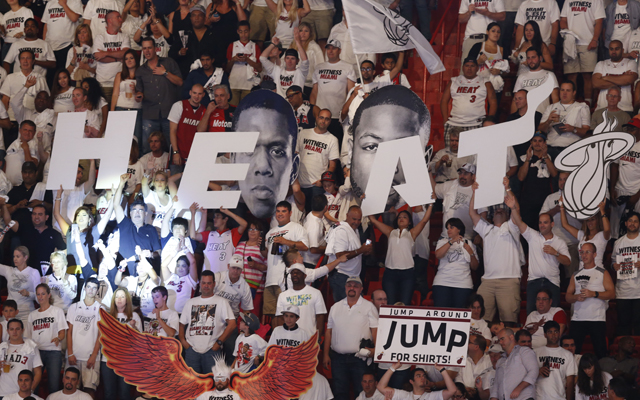 From MiracleBaseball.com, home of the Fort Myers, Fla., minor-league baseball team: 
After fans exited game six of the NBA Finals before an exciting comeback win on Wednesday night, the Fort Myers Miracle want to take the "Heat" off Miami basketball fans with a chance at redemption.The Miracle are offering a "Big Three" deal for Miami fans that come to Thursday night's game against the Jupiter Hammerheads at Hammond Stadium. Fans wearing Heat gear will get a $3 ticket, but must enter the ballpark through the exit gates. To get the $3 deal, Heat fans must stay through the entire nine innings on a Thirsty Thursday.
Heat fans made headlines during Game 6 of the NBA Finals when many headed to the exits with time running out and the Spurs ahead by two possessions. The Heat, of course, stormed back to tie the game, force overtime and force a Game 7. 
Minor-league promotions often pull stunts like this to cash in on pop-culture elements. 
So, yeah, if you want to degrade yourself: cheap admission to bad baseball, Heat fans! Get excited! 
Show Comments
Hide Comments
Leslie Alexander made his way onto the floor to complain about a call

The series shifts back to Washington for a pivotal Game 5

The Celtics and Bulls meet in Boston for a pivotal Game 5
Kerr is optimistic about making a full recovery

If this is their real list, some of the names are pretty hilarious

The bucket pushed the Spurs' lead to seven, and the Grizzlies never got that close again