Mirza Teletovic: 'Check my things on YouTube, man'
Teletovic is a confident cat.
• 1 min read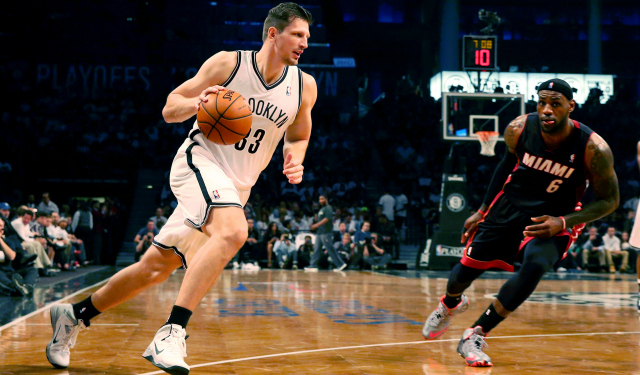 More postseason coverage: Playoff schedule, results | Latest news, notes
Mirza Teletovic does not lack for confidence. His willingness to launch shots — sometimes a few feet behind the three-point line, sometimes with a hand in his face — has made the Brooklyn Nets forward a breakout performer of sorts in the playoffs. Teletovic game isn't any different than it was in the regular season, but he is doing his thing on a national stage. People are noticing, and people asking him questions about it. He is answering them hilariously, via Tim Bontemps of the New York Post:
Also, @Teletovic33 was asked if he's "always had this much confidence in his shot." His response? "Check my things on YouTube, man."

— Tim Bontemps (@TimBontemps) May 12, 2014
This is a man who routinely retweets his own stats and, after Game 2 against the Miami Heat, shared his shot chart with the world:
Is not over @BrooklynNets @MiamiHEAT pic.twitter.com/S3yxQjyqDC

— Mirza Teletovic (@Teletovic33) May 9, 2014
All four of Teletovic's three-point makes in Brooklyn's Game 3 win came in a seven-and-a-half-minute span. He told reporters afterward that his mindset was simple, via Shandel Richardson of the South Florida Sun Sentinel:
"Just catch and shoot and don't even think about it," Teletovic said. "I wasn't really open. I took like three or four fadeaways over people. I think I'm in a good rhythm now."
Even LeBron James is talking Teletovic, via Jeff Zillgitt of USA Today Sports:
"He can just flat-out shoot the ball," Heat star LeBron James said. "There's only a few guys in our league who can do that, and we have a guy like that on our team in James Jones who just comes in and if he touches the ball and lets it go, you believe it's going in.

"You've got to try and get to him a lot quicker than a lot of guys in our league. A contest is just not enough. You've got to try do a little bit more."
The Nets beat Miami on Saturday by bombing away from downtown, and Teletovic was a big part of that. Heading into Monday's Game 4, you can be sure the Heat will be aware of him. They're far beyond needing to look him up on YouTube.
Could this have an effect on Carmelo Anthony's future in New York? What about Kristaps Por...

Chicago needs to decide whether to pay Rondo $13.4M next season or buy him out for $3M

Rose played in 64 games for the Knicks before a season-ending knee injury
Durant chose an odd way to shout out his former OKC teammate

Teams are reportedly trying to bring in the veteran forward in an effort to weaken the War...

LeBron has reportedly already ruled out any chance of joining the Clippers