Mitch Kupchak criticizes Lakers team to season ticket holders
Mitch Kupchak told a group of Lakers fans Sunday that he's "disappointed" in the team's performance.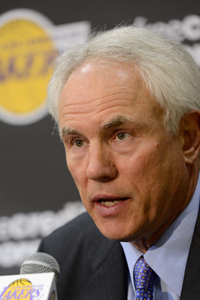 Kupchak is not happy.
(Getty Images)
From the Los Angeles Times: 
Lakers General Manager Mitch Kupchak told a group of about 1,000 season ticket holders at Staples Center that he was "disappointed" with the team's performance this season.

"If you have a bunch of cylinders, we're not running on all cylinders right now," he said during a Q&A session Sunday morning, before the Lakers fell to 15-18 with a 112-105 loss to the Denver Nuggets on Sunday night.
via Lakers FYI: GM Mitch Kupchak tells fans he's disappointed in team - latimes.com.
At this point I think the question of the Lakers having cylinders is in question. They seem stuck in the mud for long stretches of the game, only really getting momentum when they're rolling down hill (like when they couldn't miss from the perimeter in the first game against Denver) or when the other team failed to put together a cohesive effort (as in their win against the Nets). 
So what's the problem? Kobe Bryant has repeatedly made reference to the team being too old to compete nightly at a high level. Is the team past its prime, physically? What say you, Kupchak?
"I don't think age is a factor, no. That's an excuse," he said. "I don't think that's a factor at all when you look at our team. Young teams don't win championships. You have to have a good mix of experience and some legs in this business.  ... I don't think for a second this team is too old to win a championship."
via Lakers FYI: GM Mitch Kupchak tells fans he's disappointed in team -- latimes.com.
Kupchak indicated in the talk to the fans that he thinks it's primarily an effort issue. The team's just not locked in defensively. That's not a bad concept, as you can see even the younger players like Jordan Hill and especially Dwight Howard just letting opponents get to the rim in transition. 
But the problems with the Lakers have to be monumental and complex, because of the depth of their failures and the longevity of their struggles. 
It's effort. It's scheme. It's coaching. It's dedication. It's health. It's luck. It's everything. 
A simple five-game win streak will change the narrative, a simple realignment of fortune over a short period will quell the disgust. 
But for now, we're left like Kupchak, dumbfounded how this juggernaut could be rendered so mortal. At this point, it's not fear that the Lakers inspire. 
It's pity. 
Show Comments
Hide Comments
Pop doesn't know whether Manu Ginobili will retire, but he wanted to give him a proper salute...

This is the first sweep the Spurs have suffered since 2010

San Antonio doesn't know what will happen with Manu Ginobili and Patty Mills this summer
Spurs fans showed their beloved veteran much love after Game 4

The Finals are set to begin on June 1

Curry passed Kobe during the third quarter of Game 4 vs. the Spurs