Morey says Howard and Harden want Rockets to keep Lin, Asik
Houston GM Daryl Morey says the Rockets won't trade Omer Asik or Jeremy Lin, in part because Dwight Howard and James Harden want to keep them.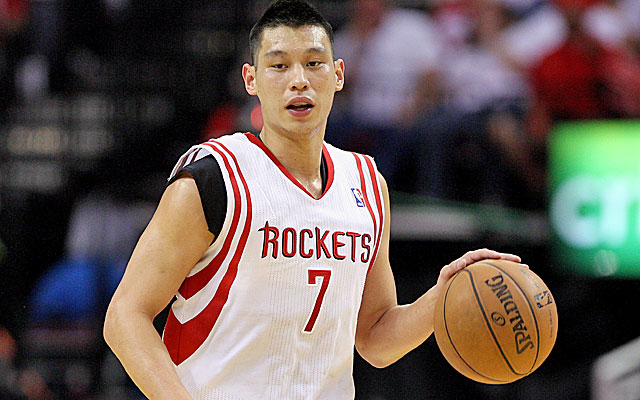 When the Rockets landed Dwight Howard, the initial idea was that they would clear out Omer Asik and Jeremy Lin's combined $16 million-plus in annual salary, presumably to get Howard's old friend, Josh Smith. That never materialized, and Smith signed with the Pistons in free agency. But almost immediately, word surfaced that Asik was not into the idea of being moved back to the bench behind Howard and wanted out of Houston. 
Whether it's to re-establish leverage or if he really means it, Houston GM Daryl Morey said Saturday when the Rockets introduced Howard that idea is dead on arrival. From the Houston Chronicle: 
Rockets general manager Daryl Morey has been steadfast in his insistence that he is not looking to deal guard Jeremy Lin and center Omer Asik in the wake of signing Dwight Howard. He has cited Lin's ability as an attacking guard as a good fit with Howard. He has talked about the value of Asik's defense off the bench.

On Saturday, he added another reason.

"The reality is James (Harden) and Dwight (Howard) want to play with Jeremy and Omer," Morey said. "I've been kicked down to assistant GM. They're going to be here."
via Ultimate Rockets » Daryl Morey on Omer Asik and Jeremy Lin: 'They're going to be here'.
Oh, haha, Dwight's the GM, that's funny, haha ... it's all fun and games until you guys wind up signing Gilbert Arenas and Glen Davis to multiyear deals, haha. 
Seriously, ask Otis Smith how that worked out last time?
Lin makes a fair amount of sense. His expectations vs. hype work against him, based off that one magical month of "Linsanity." But in reality, Lin was a pretty good point guard for much of the second half of the season, especially offensively. He was benched against the Thunder based on defensive matchups, but the entire defensive scheme of the Rockets changes with Dwight in place. 
Meanwhile, Asik is a more complicated matter. It's hard to see the hard-working big man being a problem in the locker room, but it's also a waste to have him on the roster in an auxilliary role. Can the two play together? It's not likely, given the plethora of stretch fours in the league. So the Rockets will still have to figure out a way around this logjam, unless this is all talk and the Rockets do intend to trade Asik. 
But for now, it appears they're staying put. 
Cleveland is one of Rose's biggest suitors, and the Irving situation could lead to an even...

Five years later and Celtics fans continue to throw shade -- Allen later deleted the comme...

Irving has a desire to team up with Butler dating back to June
Apparently, Irving first asked to be traded in June in hopes of joining Jimmy Butler in Ch...

Despite Melo being a good trade piece for the Knicks on paper, he has his sights set on joining...

Kyrie is reportedly open to leaving Cleveland, and New York is among his top choices to be...