Nate McMillan officially joins the Indiana Pacers' coaching staff
The Indiana Pacers announced the hiring of Nate McMillan on Monday to join Frank Vogel's coaching staff as the new associate head coach.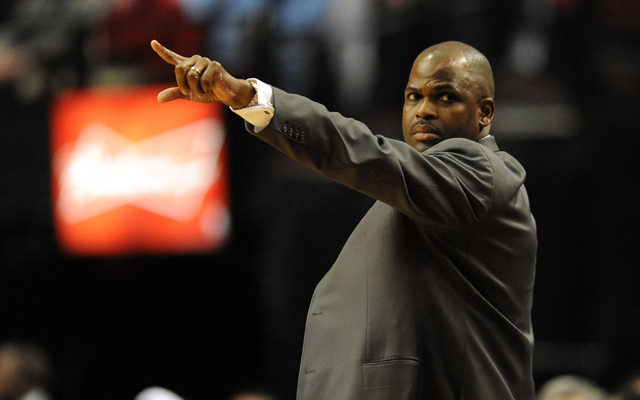 With Brian Shaw leaving Frank Vogel's coaching staff with the Indiana Pacers to take the head coaching job with the Denver Nuggets, the associate head coach position was open in Indiana. Shaw has been one of the most respected assistant coaches in the NBA and finally got a shot at running his own sideline when he took over for recently fired Coach of the Year winner, George Karl.
The Pacers were quick to fill Shaw's position on Indiana's staff by hiring Nate McMillan to take over as the associate head coach. Monday, the Pacers announced the addition of McMillan to the coaching staff. From the Pacers:
The Indiana Pacers announced Monday that Nate McMillan has been signed as an associate head coach. Per club policy, no terms of the contract are released. McMillan replaces Brian Shaw, who became head coach at Denver.

"We are extremely thrilled to have Nate join our staff," said Pacers head coach Frank Vogel. "To get someone with his experience as a player and a coach will be extremely valuable to our players, to our staff and to our franchise."
McMillan has been an NBA head coach for 12 seasons. He coached the Seattle SuperSonics from early in the 2000-01 season throuh 2004-05, compiling a record of 212-183 and making two playoff appearances (2002 and 2005). He coached the Sonics to the second round of the playoffs in 2005, losing out to the champion San Antonio Spurs. From 2005 to 2012, McMillan coached the Portland Trail Blazers to a record of 266-269. The Blazers made three consecutive playoff appearances in 2009, 2010 and 2011 but never made it past the first round.
He also served under Mike Krzyzewski on the Team USA men's basketball team in the 2012 London Olympics.
"To be able to join a respected franchise like this is a great opportunity," said McMillan. "It's obvious the potential this team has to compete for a championship and to come on board at a time like this is great timing for me. I really look forward to working with this coaching staff and the players. I have heard nothing but good things about everyone involved and that made this a very easy decision to make."
Show Comments
Hide Comments
Our Latest Stories
The Stifle Tower had it going on the offensive end Wednesday night

They were throwing down in the Mile High City

The OKC guard does it again
The All-Star forward could re-sign in Atlanta, but wants to test the market

The two big men are out one game for exchanging punches Tuesday night in Toronto

The Warriors forward is scheduled to be re-evaluated next week