NBA 3-Point Contest shooters debate where to put the rack
Where should Steph Curry, Kevin Love, Damian Lillard, and the other 3-point contest stars put the moneyball rack? It's a tough questions for the stars.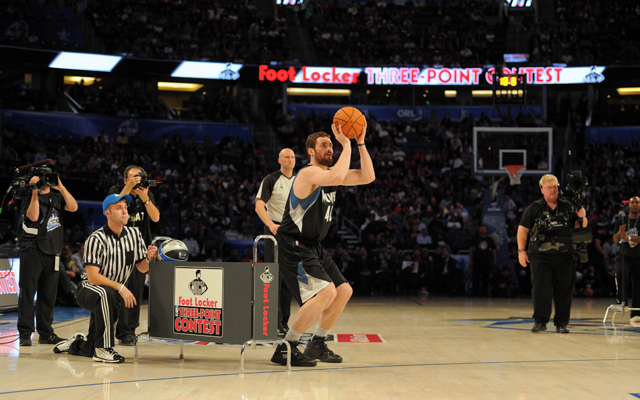 NEW ORLEANS -- "Where you putting the rack?"
That was the most interesting question on the minds of the 3-Point Contest participants Friday at NBA All-Star Weekend. In a new twist on the classic contest, which is often the most fun event of the weekend, shooters will have the option of placing one all-moneyball rack at any spot on the floor. Each of those shots will be worth two-points.
So where are the best shooters going to put the rack?
Stephen Curry - 2014 - 3P%: 41.5% 3PM-3PA: 211-243
Most of the participants hadn't made their final choice, but Warriors shooting phenom Stephen Curry described the thought process behind the decision.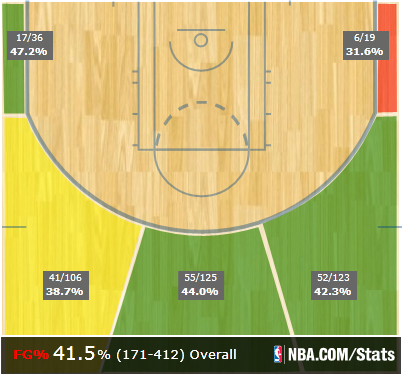 "I haven't decided," favorite Steph Curry said at All-Star media availability. "Kevin Love and I were talking, and I'm not sure. I don't want to give all my secrets away, to keep an edge.
"But I would think it's going to be one of the last three racks. You don't want to start off with it, because you want to get in a rhythm, but if you put it at the end, you might get a little heavy-legged, a little tired. There's definitely some game-planning that has to go on. I feel like a coach before a big game, have to make that one decision that could decide a win or a loss. But it'll definitely be one of those last three racks. "
Corner threes are known to be the most efficient shot in basketball, so most players said that's where they're putting the rack. Cavaliers point guard Kyrie Irving said he's going to have it be the last rack, indicating he was going left-to-right in the competition, finishing with an all-moneyball rack in the right corner.
Bradley Beal - 2014 - 3P%: 43.0% 3PM-3PA: 89-207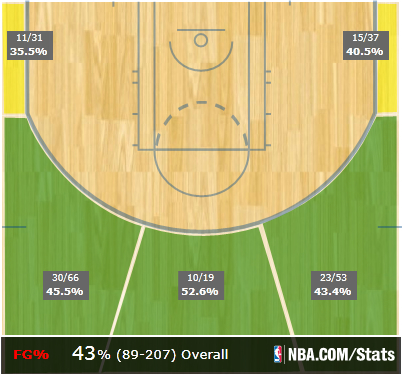 Bradley Beal bucked that trend, though, and indicated he'll either go with the second or third rack, above-the-break or at the top of the key. That's traditionally a lower percentage shot, but could raise his total score by making up for a low-efficiency spot. 
Spurs guard Marco Belinelli also indicated he was putting it on the final rack, in the corner. "I practiced yesterday and that's where I shot it best."
Seven-time All-Star Joe Johnson said he wants to use the last rack, but said it gets complicated when you factor fatigue and being cold to start.
"To be honest, I didn't even really know the logistics of the shootout [rule changes] until this morning," Johnson admitted. I did hear you get an all-rack. I haven't decided if it's going to be my fist rack or my second rack. It's definitely not going to be my last one because I don't want to be rushing.
"I want the corner, but I don't want it to be my first rack."
Kevin Love - 2014 - 3P%: 37.0% 3PM-3PA: 114-308
Minnesota Timberwolves star Kevin Love admitted that he hasn't decided after only learning about the rule changes Friday morning. He did say his will be based more on how he shoots in warmups on Saturday before the event that night.
"I'm not sure where I'm going to put the rack yet. I went and practiced today, that'll be something I figure out tomorrow, based on how I feel I'm shooting it from certain spots. "
Damian Lillard was stone-faced when asked about it, clearly not wanting to reveal any plans. His "don't know" was laced with a pretty efficient death stare.
In a weekend of events that has become stale in many respects, the new moneyball rack adds a level strategy that has the players thinking. That should only add to the fun. It's already a topic of conversation for the players, media and fans, which means it's a win for the league.
Show Comments
Hide Comments
Curry's turnover was a key moment in the Warriors' Game 7 loss last season

Curry is having an impressive postseason campaign, averaging 28.6 points per game

They have consistently posed problems for the Golden Boy, but can they keep it up?
Kerr hasn't coached since Game 2 of the first round against the Trail Blazers

Parker was injured during Game 2 of the Spurs' series vs. the Rockets

'Road Trippin' with RJ and Channing' is the best podcast in basketball