NBA adds new format to All-Star Weekend's dunk contest
There will be a little twist on the dunk contest this year at All-Star Weekend.
The dunk contest already has generated a healthy amount of buzz because of a stellar field. With Paul George, John Wall, defending champ Terrence Ross, Harrison Barnes, Ben McLemore and Damian Lillard participating, people are excited to see what they've got.
But fans will also be treated to a revamped format which includes "freestyle" and "battle" section. 
The biggest change is that it's not necessarily an individual competition anymore, but a team one. 
The East is competing against the West, but within that the "freestyle" round includes 90 seconds for each conference's three dunkers to do as many dunks as they want/can. Which obviously opens the door to teamwork among the teams, and a bunch of creativity. 
Next, the "battle" round, which is essentially a dunk-off between individual players from the East and West. So basically if Ross is taking on Lillard, the two each perform a dunk, the judges vote and the loser is eliminated. The first team to win three "battles" wins the dunk contest.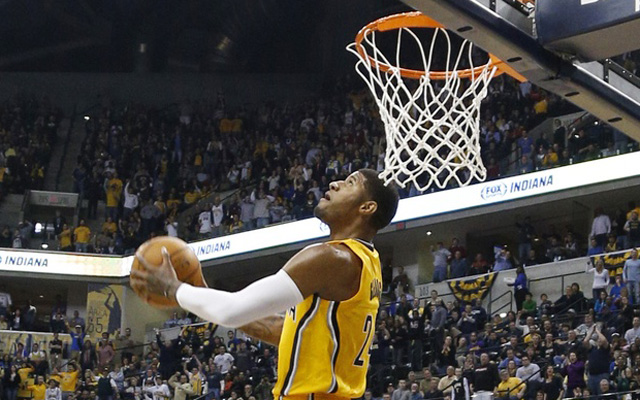 Of course there will be an individual dunker recognized though, and that's where the fans come in. Through texting, Twitter, NBA.com and wherever else online, fans will vote for the MVP dunker, who will be crowned "Dunker of the Night."
The changes are all pretty creative, and could lead to a bit of life being injected into a stale contest. We all love the dunk contest, but everyone's almost always left bitterly disappointed. So by mixing it up, fans will at least be kept on their toes a little bit and with there having to be a bit of team chemistry and cohesion, we could see some really fun stuff. But at the same time, if there isn't at least a little bit of practice and rehearsal, we could see a complete mess as well. 
Worth a shot, though. The dunk contest needs some new life to it. 
Show Comments
Hide Comments
The two best point guards in the East go at it in a series sure to be filled with drama.

Breaking down key matchups as the second season reaches the conference semifinal series

The second round of the 2017 NBA Playoffs tips off Sunday at 1 p.m. ET, with Game 1 of Cel...
The Spurs have homecourt advantage, and will host Game 1 Monday night at 9:30 p.m. ET

All-Star guard flew to Washington after Game 6 vs. Bulls to attend his sister's funeral Sa...

Some love for the Rockets over the Spurs, and at least one expert says the Cavs are going...