NBA Draft Prospect Grades: Champions Classic showcases talent
Jabari Parker, Andrew Wiggins and Julius Randle shine in Chicago in action-packed night of prospect sure to get scouts drooling.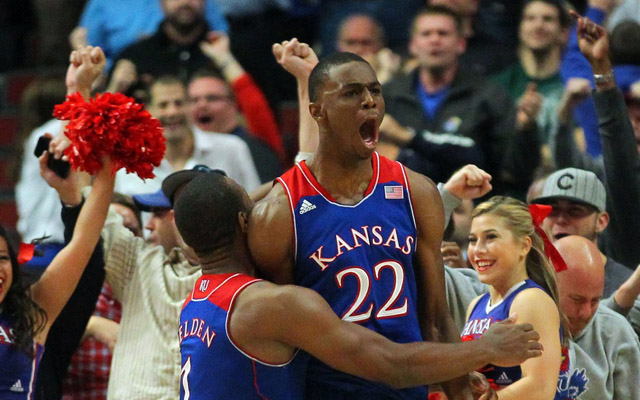 The top three prospects were in action Tuesday as Julius Randle took on the Michigan State Spartans in a loss, and Jabari Parker and the Duke Blue Devils faced off with Andrew Wiggins and the Kansas Jayhawks. 
At the end of the night, we learned some things about the many prospects in action. 
Mostly, we learned that this draft class looks as loaded as it was expected to be. That sound you hear is scouts wiping the drool from the floor.  Here's how we graded out the prospects, with a focus on Julius Randle. 
IN FOCUS: 
Julius Randle, F, Kentucky: 
(27 points, 13 rebounds, eight turnovers)
OVERALL: A+
STRENGTH: Post moves A-
That's confidence in handle and footwork. The up-fake is nothing super-complicated but that spin move is still more coordinated than you see from most young bigs at the pro-level. Spacing's superb, too. 
STRENGTH: Floor vision and aggressiveness B+
That's 6-8, 250 going coast to coast. He won't be running point forward at the next level but it shows you what he's capable of if he keeps working at it. 
Weakness: Handle and control D+
Yes, he looked great on the full-court bull rush and at times in the post, but then you have the eight turnovers, and things like this: 
Face-up he may have some trouble. This is going to be an issue due to how most power forwards in the NBA operate. It's something he can learn, but he'll want to work on it. That said, there are a lot of face-up power forwards. Finding back to the basket guys is tougher. 
Strength: Creating offense A+
That's a triple-team in the post in a four-point game inside a minute vs. the No. 2 team in the country. That's a big-time move. Great job creating space with his shoulders and getting low, then exploding back and great touch. 
Mixed results: Defense C
Randle has good positioning and is able to use that same footwork to stay with players. As he develops he should get better and his strenth alone is going to make him a problem to deal with. But Adreian Payne gave him nightmares and a lot of it was his inability or unwillingness to jump to contest shots. He crowded too much giving up foul and needs to use his crazy athleticism to combat guys vertically. Staying with guys and contesting is good, but he needs to use his leap at times. 
Missed some assisgnments, but come on, he's a freshman. Gotta cut the kid a break there. 
Andrew Wiggins, SF, Kansas
(22 points, 10 rebounds, 9-of-15 shooting)
Overall: B+
For a half, Wiggins looked pedestrian. The questions will be whether this is because he lacks aggressiveness, something Bill Self has talked about, or because the Jayhawks' system de-emphasises top tier talent and tends to give the guards entirely too much freedom. Either way, for a half, it was mostly him working off-ball and finding cuts like these: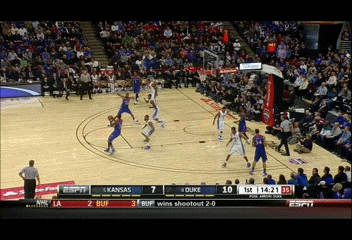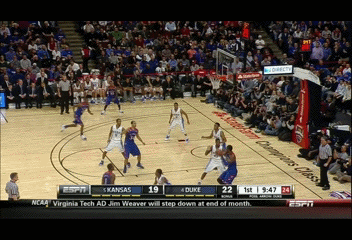 Wiggins is just crazy long. Still, he was overshadowed by Parker for most of the game. But he got more aggressive in the second half, defending Parker and slowing him down while taking over more and more, crashing the glass. And then the stepback.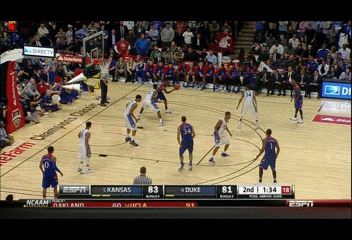 And then the finish.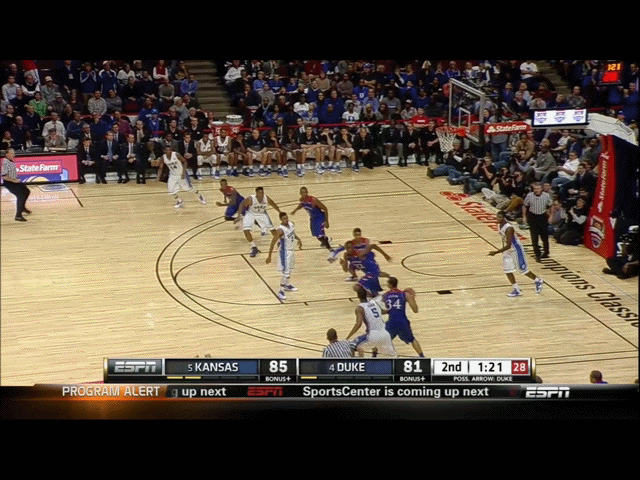 Wiggins showed the athleticism he was hyped with, and an ability to make an impact on the game in multiple ways without needing the ball. The jumper isn't perfect, but it's going to improve. 
Defensively, Wiggins has superb upside, and he showed it in pestering on the perimeter.
Overall, he showed why he's thought to be the No. 1 pick, even as Randle and Parker lifted themselves to the same consideration. This is going to be fun. 
Jabari Parker, F, Duke
(27 points, nine rebounds, 9-of-18 shooting)
Grade: A+
Parker took over the game in the first half and you would have liked to see how he would have responded late if he hadn't fouled out due to the NCAA's new psycho rules. Parker had dropped in some drafts over the summer after coming in as the second-highest ranked prospect. And then he absolutely took over. 
That's body control, handle, athleticism, and superb finishing. That's the whole package. That's what you draft at the top to build a franchise around. 
The way he reads the defense on the catch behind the screen and immediately recognizes the opening to the shot is big here. Being able to find and make that shot are special skills and Parker showing them should boost him back up the mocks.
He had just one assist, but wow, what an assist: 
In the second half, Parker got out of control and bothered by the switch of Wiggins onto him. He started to come back and respond, but the fouls took him out of it, including the final one which was just stupid on the Wiggins dunk. But, hey, freshmen gonna freshmen. 
Wiggins successfully defended his No. 1 spot, but it was close. Randle cemented himself as the No.2 pick. Parker probably did the most for his game by showing that he's able to dominate the game and showing off a skillset that few players have. 
It's Wiggins, Randle, and Parker for No.1 right now, with Exum, Marcus Smart, and Aaron Gordon close behind. 
Adreian Payne, PF, Michigan State
(15 points, 5-of-10 shooting, three rebounds)
Overall: B+
Made some big moves against Randle's strength, like this one. 
Looked very much like the kind of power forward who plays ten years and gets consistent minutes. 
Defensively, looked smart and gave Randle a lot to handle, Randle's just that good. Stayed with plays consistently and was able to hit from range. Looks like a grea power forward prospect for middle to late first round. Fouled out on account of having to combat a bigger, more physical opponent. There's a gap between him and the elite forwards, the question is how much it is. 
Gary Harris, SG, Michigan State
(20 points, 7-14 shooting, 3 steals) 
Overall: A
The wing you want. Got out in transition, found space for shots, victimized defenders off the dribble, found gaps to attack and shot the lights out. Looks like he kind of player that will translate perfectly to the NBA. His skillset doesn't make for any awkward in-between position gaps and his athleticism compliments instead of confounding his skillset. 
Can fill it up. 
Elsewhere: 
Wayne Selden, F, Kansas: A-. Showed great body control and was able to make some plays with his passing as well. Kansas could wind up sending two forwards in the top ten of the next draft. 
Andrew and Aaron Harrison, G, Kentucky: D-. Looked lost trying to hit entry passes, trying to run an offense, forcing issues and couldn't defend without fouling. A real bad first impression on the national stage for the youngsters. 
Joel Embiid, C, Kansas: C. Looked as raw as expected, and as physically gifted. But it's going to take a lot of work. 
Show Comments
Hide Comments
We'll be seeing this Westbrook face from Game 5 a lot

The series returns to Los Angeles for a pivotal Game 5

The series heads back to San Antonio tied at 2-2
No final decision has been made, but Rondo could suit up

The service must have been outstanding

The Rockets look to close out the series at home