NBA Finals in Review: Heat win the 2013 title against the Spurs
MVP, X-Factor, key moments, when the series was over and what lies ahead for both the Miami Heat and San Antonio Spurs? It's the 2013 NBA Finals in review.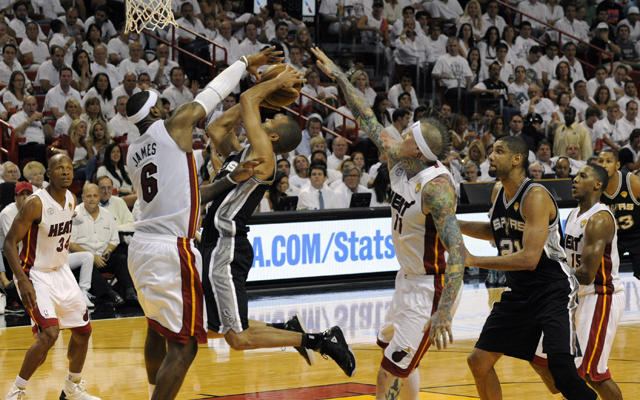 Recency is how we generally judge just about anything these days, especially when it comes to sports. A player is only as good as his last jumper or defensive rotation or drive to the basket. A team is only as good as its most recent game, series or playoff run. For both the Miami Heat and the  San Antonio Spurs , I hope we don't cut it down to just the recency of it all. I hope we look at the 103 games from the Spurs this season and the 105 games that the Heat played this season and appreciate the journey for both teams. I hope we respect everything both franchises did to give us this memorable NBA Finals.
It was the march through the regular season for the Heat, the 27-game winning streak and winning 66 games for only the 13th time in NBA history that showed us just how truly special this team was capable of being. They were historic in many ways but never quite the best. They always left us wanting more from them if they were truly going to persevere and begin to form a dynasty. And that's what happened. They marched through the first round, survived an early scare against the Chicago Bulls , gutted through an intense and physical Eastern Conference finals in seven games over the Indiana Pacers  and then met up with the Spurs in the Finals.
For the Spurs, they rested their players even when it flew in the face of national-television ratings, they moved the ball better than any team in the league, they slapped the cane out of Father Time's grasp, swept the Los Angeles  Los Angeles Lakers in the first round, quieted the roar of Oracle Arena and the shooting of the Golden State Warriors in the second round, swept a tough  Memphis Grizzlies team in the Western Conference finals and squared off against the Heat in the Finals.
What transpired can only be described as one of the greatest NBA Finals series that we've ever seen. Was it the greatest? We don't really know. But Tony Parker 's insane shot to put away Game 1, the monster Heat run including a destructive block by LeBron James on a Tiago Splitter dunk attempt in Game 2, Danny Green and Gary Neal taking turns in a 3-point contest in Game 3, James and Dwyane Wade combining for 65 points in Game 4, Manu Ginobili 's brief revival in Game 5, Ray Allen 's season-saving 3-pointer in Game 6 and then an incredible Game 7. 
The Heat outlasted the Spurs on this journey, but there was no doubt we had the two best teams in the NBA playing for the title. And it came down to the final minute before it was decided. You can't ask for much more than that.
SERIES MVP
Well, considering LeBron James won the 2013 NBA Finals MVP, it's probably him. James put up averages of 25.3 points, 10.9 rebounds, 7.0 assists, 2.3 steals, 2.6 turnovers and 0.9 blocks over the course of the Finals. While those numbers are ridiculous, they didn't come easy by any means. Kawhi Leonard and the Spurs made him work for every single statistic that he put up there and forced him into making just 44.7 percent of his shots. Through the first three games, James made just 38.9 percent of his shots. Games 4 through 7, he made 47.9 percent.
What changed?
James said he looked at the stats and the tape of the first few games and then went over his numbers from the regular season. He noted that he was one of the best mid-range shooters in the league this season and broke the 40.0-percent seal on his 3-point shooting. With the Spurs daring him to shoot and clogging the middle, he started taking what they gave him. And he regularly knocked them down, especially in Game 7.
His 37 points were tied with Tommy Heinsohn (1957) for the fourth-most points in a Game 7 in the Finals. Only Jerry West (42 in 1969), Elgin Baylor (41 in 1962) and Bob Pettit (39 in 1957) have scored more. James earned every bit of that 2013 NBA Finals MVP and Larry O'Brien Trophy.
X-FACTOR
Dwyane Wade. There were plenty of times during the playoffs and even the Finals in which questioning the validity of Wade's superstardom was fair game. He struggled. He sucked. He was a liability on defense constantly. And yet, when his team needed him throughout a tough seven-game series, Wade was right there next to LeBron, flanking him on offense and performing well enough to make you feel a little silly for wondering if he still had it. Wade averaged 19.6 points, 4.6 assists, 4.0 rebounds, 1.9 steals and 1.3 blocks in the Finals. He shot 47.9 percent from the field. He poured in 23 points in the finale. 
Wade proved that while injuries and age might be taking their toll on his body, he was still able to muster up enough energy, adrenaline and basketball skill to be a tough matchup to deal with for any opponent when everything is on the line.
THE SERIES WAS OVER WHEN ...
It very easily could have been Tony Parker's late jumpers in the fourth quarter of Game 6 or Kawhi Leonard's free throws during that same time. But the Spurs let one get away from them and ultimately paid a huge price for it. This LeBron James jumper secured the NBA title and gave the Heat the necessary breathing room to wrap things up on the 2012-13 season.
KEY MOMENTS
Tony Parker barely beats the shot clock to secure the win for the Spurs in Game 1.
The incredible run by the Heat in the second half of Game 2, including some huge threes by the shooters and an enormous block by LeBron James on Tiago Splitter.
Danny Green: professional flamethrower.
The utter domination by the Heat Big 3 in Game 4.
Manu Ginobili breaks through for one more big game.
Ray Allen saves the season and ultimately the Heat's ability to repeat as champions.
LOOKING AHEAD FOR SAN ANTONIO
The crazy thing about the future of the Spurs is we simply don't know. Will Tim Duncan and Manu Ginobili come back? If they decide to retire, will Gregg Popovich follow, or does he stick it out with Tony Parker? If the team renounces its rights to Ginobili, they could have nearly $17 million in cap space this offseason to retool and possibly grab a top free agent to give Popovich another reason to stay. Tiago Splitter is a restricted free agent, and Boris Diaw has a player option. 
Or they could bring the entire gang back together for one more big run and see if they can turn a near title in 2013 into their fifth title in 2014.
LOOKING AHEAD FOR MIAMI
Rest LeBron James. Make sure Dwyane Wade is healthy. Let Chris Bosh do whatever quirky hobbies that he wants to, even if it means shooting more 3-pointers. Exercise your team option on  Mario Chalmers so he can't go anywhere for one more year. Bring the band back together. Go for the 3-peat. 
Business as usual.
Show Comments
Hide Comments
The guard has a broken thumb and the injury is costly for the Bulls

Club reportedly wants to keep stars, but doing so promises more confusion and falling shor...

Warriors star talks to CBS Sports about how he gets his mind right
Vince Carter, Norman Powell and Nene have also shined on the big stage

A fantastic series will pit two of the best players in the league against one another, aga...

What does this mean for the future of Paul George?