NBA Finals: Spurs got caught in quicksand as the Heat ran over them
With a 35-9 run in the second half of Game 2, the Miami Heat destroyed the San Antonio Spurs. The Spurs' mindset couldn't overcome it.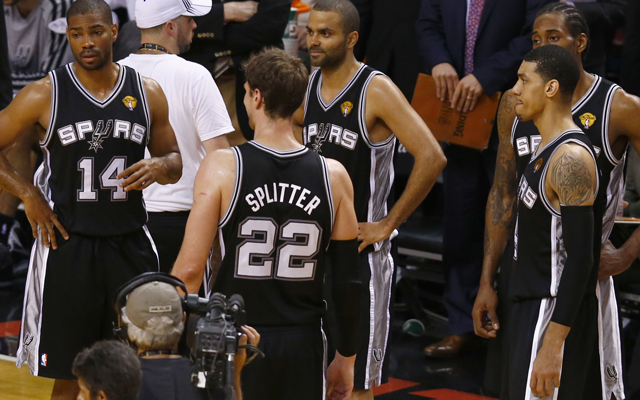 MIAMI -- With four minutes left in the third quarter, Danny Green blocked a shot inside by LeBron James and then scored on him on the next possession when James appeared to be funneling him into help that wasn't there. James' lapse on both ends was summarizing his struggles throughout the game up until that point. It was a moment that looked like it was going to lead to one of those classic runs by the San Antonio Spurs . Instead, it sparked the Miami Heat to go on a slaughtering run their opponent couldn't do anything about.
Over the next 10:51 in the game, the Heat went on a 35-9 run that removed any doubt about whether or not the Heat could respond to a frustrating Game 1 loss at home in the NBA Finals. During that run, the Spurs had more turnovers (six) than made shots (four) and the Heat shot 76.5 percent from the field and made 5 of 6 from 3-point range. The run officially ended when the Heat subbed out LeBron James, Mario Chalmers , Ray Allen , Dwyane Wade , and Chris Bosh with 4:58 left in the game.
"In the second half, they just ran us over," Manu Ginobili said after the Game 2 blowout loss. "We didn't move the ball at all. Their pressure really got us on our heels. And offensively, they just ran, they penetrated, they kicked it, they did everything they wanted. So very poor second half and it's disappointing."
The run was sparked by Mario Chalmers' creating 11 of the Heat's first 14 points during the streak (six scoring and five on assists). And from there, the Spurs were stuck in quicksand and couldn't manage to pull themselves out from being taken under. The more they struggled and panicked to end the run right away, the deeper the hole was for them.
"We weren't able to, you know, make enough shots," Gary Neal explained after the game, "and be able to execute enough to be able to stop their runs, so the second half they kind of got away from us. What can you do? They're an extremely talented team and that was one of the keys to try not to happen was turn the ball over and fuel their break.
And they were able to do that and they started making the 3-ball and the confidence started going up as the building started to get loud. It was all downhill from there."
LeBron James finally pulled out of his slump during the big run by the Heat as he received enough support from his teammates to possibly relax and just try to make some plays without the pressure of carrying his team. He scored 11 of his team's 35 points during the run and assisted for nine other points. The capper appeared to be his monster block on center Tiago Splitter and then turned around and assisted to Ray Allen for a 3-pointer on the next play. That pushed the lead to 22 and turned Game 2 into a laugher.
"It was very quick and when they play like that, it's tough," Splitter said. "They just stay aggressive on defense, make us turn it over, come with the fast break very fast, very effective."
This was the backbreaking run we saw so many times during the regular season from the Heat and a run we saw a few times throughout their march through the Eastern Conference playoffs. But to do this against the Spurs, their defense, and their offensive execution was a perfect storm of dominance. The turnovers, the missed shots, holding the ball too long, and all of the mistakes the Spurs seemed to avoid in Game 1 turned the other way.
"Yes, we knew that it was coming," Splitter said about Miami's extra gear. "Of course, we didn't have a good game. We didn't shoot that well. When the big run is not there, it's difficult to win a game."
Spurs coach Gregg Popovich had four different stoppages (three timeouts and the break between the third and fourth quarters) in play before he waved the white flag with a lineup of Cory Joseph , Patty Mills , Tracy McGrady , Matt Bonner , and DeJuan Blair . At that point, the deficit was 24 points and pride lost out to the extra rest the team might need with just one day between Game 2 and Game 3.
"You just try to stop the bleeding," Danny Green said as he tried to explain the team's mindset during that run. "Pop will call timeout. Hopefully we'll come back out and we'll just try to chip away, little by little. The basketball game itself is a game of runs and they went on their run. Hopefully we were just seeing when that run was going to turn for us and that we were going to go on our run. But that didn't happen for us."
The Spurs can have some peace of mind knowing they left Miami with a 1-1 split and head back home for three consecutive games. However, playing so poorly in the second half of Game 2 takes a lot of their momentum away and leaves them wishing they had finished out this short stretch in Miami a little better. They failed to completely capitalize on putting the Heat far behind in the series and forcing them to a second straight loss for the first time since January 10.
"We are in the NBA Finals," Ginobili said. "You don't want to play like this, for sure."
Game 3 will be Tuesday night in San Antonio.
Show Comments
Hide Comments
Our Latest Stories
Golden State is hoping to get Durant back before the end of the regular season

Shaquille O'Neal wishes his resume was a little bit stronger

The Philadelphia big man said it went 'better than expected'
Maybe just let everybody enjoy this

This is the Mamba mentality, I guess

Hornets swingman Jeremy Lamb hit the star in the eye on Friday