NBA Finals Thunder-Heat Game 3: LeBron draws questionable and-one on Durant
Video: LeBron James finishes and-one on Kevin Durant.
LeBron James was a monster in the first half of Game 3 inside, driving for layups, finishing putbacks, and drawing fouls like a beast. He also capped off this and-one vs. Kevin Durant that was light on the foul side. 


You'll notice he gets the hand but not the arm on the drive. Here's a look from the front side.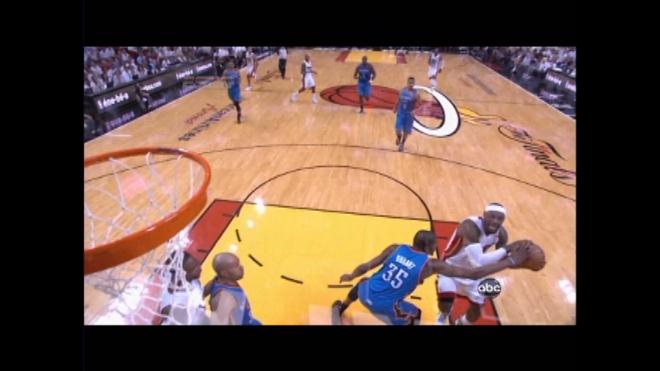 It looks on the swipe-down live like he got James on the face, but he only got the hand on the ball.
Regardless, Durant has to give a harder foul, or not give one at all. He can't allow and-ones, it hurts them both ways. He's got to be smarter and tougher with these fouls, even when he's picking up some ticky-tacks. 
Chris Paul, Blake Griffin and Gordon Hayward lead the pack among stars who could be on the...

The 24-year-old swingman will become an unrestricted free agent

The youngster hit Oladipo with a nutmeg during a one-on-one game at Oladipo's camp
The Cavs will be looking to upgrade their squad after their Finals loss to the stacked War...

Denver is reportedly also in talks on a three-team trade that would send them Kevin Love

Barclays Center hosted the BIG3's inaugural slate of games on Sunday, with The Answer as a...