NBA fines Clippers F Reggie Evans $25,000 for flipping the bird
The NBA announced on Friday that Los Angeles Clippers forward Reggie Evans was fined $25,000 for flipping the bird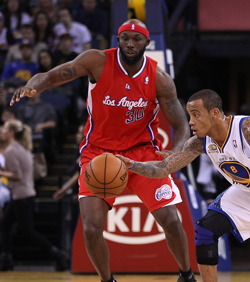 Reggie Evans has been fined by the NBA.
(Getty Images)
Even the oldest trick in the book is against the NBA's rulebook. 
The
NBA
announced on Friday that Los Angeles Clippers forward Reggie Evans was fined $25,000 for flipping the bird during a Monday night game against the New Orleans Hornets. The league officially termed Evans' infraction an "obscene gesture."
During a second quarter stoppage in play, Evans pretended to rub his face and scratch his nose with his middle finger, clearly flipping the bird in the process.
The act can be seen on MockSession.com
.
The Clippers went on to win at Staples Center, 97-85. Evans finished with 4 points, 4 rebounds, 1 assist and 1 steal in 15 minutes.
Evans, 31, is averaging 2.2 points and 5.3 rebounds in 15.2 minutes off the Clippers' bench this season.  His 2011-2012 salary is $1.2 million, according to StoryTellersContracts.com.
Earlier this week
, Orlando Magic forward Glen "Big Baby" Davis was fined $35,000 for flipping the bird during a game against the Toronto Raptors.
Show Comments
Hide Comments
Game 1 of the 2017 NBA Finals tips on June 1

LeBron reflects on emulating Michael Jordan growing up, but one thing he couldn't quite co...

'I wear the number because of Mike'
Our experts predict every series in the 2017 NBA playoffs

LeBron. Durant. Curry. Klay. Green. Kyrie. Love. Let's do this.

This matchup for the NBA championship could be the GOAT