NBA fines Hawks F Ivan Johnson $25,000 for flipping off Celtics fan
The NBA has fined Atlanta Hawks forward Ivan Johnson $25,000 for flipping off a fan of the Boston Celtics following a Game 6 loss.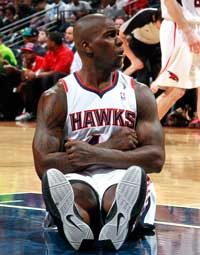 The NBA has fined Hawks forward Ivan Johnson.
(Getty Images)
Losing with dignity simply shouldn't involve a one-finger salute.
The
NBA
announced on Saturday that Atlanta
Hawks
forward
Ivan Johnson
has been fined $25,000 for "directing an obscene gesture toward fans" after a Game 6 loss to the Boston
Celtics
on Thursday night.
Johnson was caught putting his left middle finger in the face of a fan wearing a Celtics jersey as he left the court following Boston's series-clinching victory.
This image
 shows Johnson's obscene act.
It was an unsurprising end to the volatile 28-year-old rookie's first season in the NBA as Johnson was
banned from the Korean Basketball League
for making an obscene gesture towards a referee.
Johnson averaged 6.4 points and 4.0 rebounds in 16.7 minutes per game for the Hawks this season.
Hat tip: SBNation.com
.
Show Comments
Hide Comments
Can the Celtics clinch a berth in the Finals

Durant was called a 'cupcake' and faced all sorts of other taunts

McCants' career flamed out after his fourth season in the NBA
The Warriors head coach is not ready to rejoin the team on the bench

Lue said that the Celtics were harder to game plan for than the Warriors

James needs only 28 points to pass MJ for the most points in NBA postseason history