NBA fines Raptors general manager Masai Ujiri $25,000 for expletive
Toronto Raptors' general manager Masai Ujiri was fined for his rally cry against the Brooklyn Nets Monday.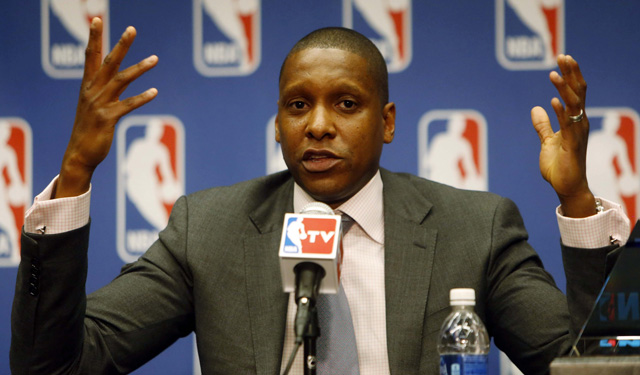 More Playoffs: Schedule | Threat Matrix | Previews: East | West | Picks
Update 10 p.m. ET: The league reconsidered its position and announced Monday it has fined Ujiri $25,000 for what he said at the fan rally.
+++
Toronto Raptors' general manager Masai Ujiri went viral during the Brooklyn Nets' win over the Raptors on Saturday when he was caught on social media saying "F*** Brooklyn!" during a fan rally outside the Air Canada Centre before Game 1. He apologized at halftime of the game, then saw his team lose home-court advantage by dropping Game 1 of the series.
While the NBA wasn't crazy about Ujiri's choice of words, they're not going to punish his bank account for the poor choice of words. According to Marc Stein of ESPN.com, the NBA warned Ujiri for the expletive call but they won't fine him.
Toronto Raptors general manager Masai Ujiri received no fine, but a warning from the NBA for directing an expletive at the Brooklyn Nets, according to sources close to the situation.

Ujiri shouted "F--- Brooklyn!" at a fan rally outside Air Canada Centre prior to Game 1 of his team's first-round Eastern Conference playoff series Saturday against the Nets -- a 94-87 Brooklyn victory.
It ended up adding another level of drama and excitement to the series, and it's been added fodder for the two fan bases, media bases, and teams. The Raptors and Nets will play Game 2 on Tuesday night, which should have even more heightened trash talking thanks to Ujiri's comments at the rally and Paul Pierce's incredible performance to secure the road victory.
Show Comments
Hide Comments
This was a horrible play by the Bulls' guard.

The UCLA product and southern California native has previously indicated his desire to play...

Wall threw down a similarly impressive dunk earlier in the series
LeBron played just under 44 minutes per game in the first round against the Pacers

Markelle Fultz is No. 1, followed by Kansas' Josh Jackson and there are some new names in the...

Leslie Alexander made his way onto the floor to complain about a call