NBA investigating Cuban's Kobe amnesty comments
The NBA is investigating Cuban's comments about how the Lakers should amnesty Kobe Bryant.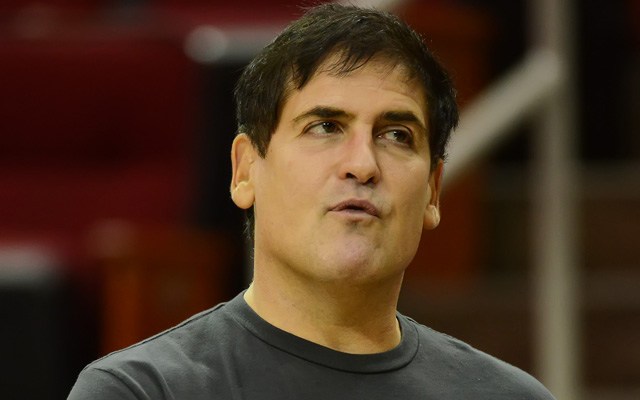 The Los Angeles Times reports that Kobe Bryant might not be the only person upset with Mavericks owner Mark Cuban's comments about the Lakers possibly amnestying the future Hall-of-Famer.
The NBA is debating whether to fine Cuban for saying Friday that the Lakers should consider waiving Bryant next season via the one-time amnesty provision. The Lakers would still have to pay Bryant his $30.5-million salary next season but would save the corresponding amount, if not slightly more, in luxury taxes.
via NBA debating whether to fine Mavericks' Mark Cuban for comment on Kobe Bryant --latimes.com.
On Sunday, after dropping a monster 38 points in a big win over the Mavs, Bryant tweeted "Amnesty THAT" in reference to Cuban.
The NBA could be concerned with Cuban violating tampering rules. Basically, you're not supposed to talk about another team's business, or contract, or free agents before free agency. They're really touchy about this, because all the owners are suspicious of everyone else trying to steal from them, as long as it's not a lockout when they band together to steal from the players. 
Just kidding!
Cuban could get tagged for this, but what else is new? He's already the most fined owner in NBA history. What's more going to do to him, really? 
Show Comments
Hide Comments
The commissioner's infamous veto of the Paul trade could have been different

Warriors are intent on keeping a mind like Jerry West around

LaVar has always been proud of his son, which Magic says isn't a problem as long as it doesn't...
Curry was cookin' on the pan and stole the show when she took over the mic

Shaq says LeBron isn't comparable to any one legend, rather a mixture of several greats

Kevin Love says the Cavaliers are on the same level as the Warriors: 'We match up well'