NBA Playoff Picture and Magic Numbers: Memphis' time may be up
Playoff scenarios, magic numbers, and matchups as the Grizzlies try and stay in the playoff picture.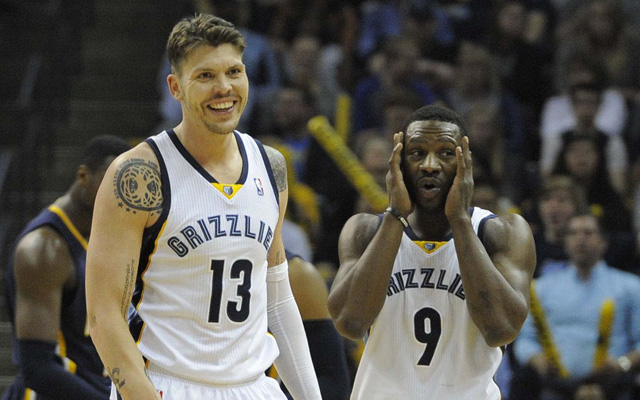 More NBA: Power Rankings | Expert Picks | Seasons in Review 
For previous updates, click here.
Results entering Wednesday's games (April 9):
Clinched playoff berth:  Indiana Pacers ,  Miami Heat ,  San Antonio Spurs   Oklahoma City Thunder ,  Los Angeles Clippers ,  Toronto Raptors ,  Chicago Bulls , Brooklyn Nets ,  Washington Wizards ,   Houston Rockets ,  Charlotte Hornets , Portland Trail Blazers
Clinched division title, top-four seed: Pacers, Heat, Spurs, Clippers, Thunder
Numbers (combined wins and losses with closest non-qualifying team) for playoff berth: 
Atlanta Hawks : 3
Golden State Warriors : 3
Dallas Mavericks : 2
Phoenix Suns : 5
Magic Numbers for division title:
Raptors: 4
Current matchups: 
Eastern Conference
Heat (1) vs. Hawks (8)
Pacers (2) vs. Bobcats (7)
Raptors (3) vs. Wizards (6)
Bulls (4) vs. Nets (5)
Western Conference
Spurs (1) vs. Suns (8)
Thunder (2) vs. Mavericks (7)
Clippers (3) vs. Warriors (6)
Rockets (4) vs. Trail Blazers (5)
East Nos. 1-2: Heat, Pacers
Does anyone want the No. 1 seed? The Heat lost to the Nets again Tuesday, as Brooklyn swept the season series. The result is that the Heat are up only a half-game on the Pacers, and Indiana plays the Bucks on Wednesday. 
Miami still controls its own destiny, and its magic number for home court throughout the Eastern Conference playoffs is five. 
Relevant games Wednesday: OK, Indy, let's try this again. The Hawks were too tough a test for the sinking Pacers, but we'll see if Milwaukee is soft enough for them to get a win. A loss to Milwaukee and the Pacers might pack it in till the playoffs. 
Miami meanwhile is on a road back-to-back vs. Memphis, which absolutely is desperate for a win. Miami could be mad about the loss to the Nets, and they tend to play Memphis in tight games that they wind up winning. Huge game. 
East Nos. 3-6: Raptors, Bulls, Nets and Wizards 
Brooklyn's win over Miami puts them two back of Toronto and Chicago with five to play. Toronto secures a tiebreaker with a win or a Nets loss, so Brooklyn is effectively three games back. 
Chicago's magic number for no-worse-than-fifth is one. 
Relevant games Wednesday: Washington plays Charlotte in a fairly big game. They lose that one, and the Wizards drop into the tier below and will be in a dogfight to avoid Miami and the Pacers ... if anyone's still afraid of the Pacers. A loss would move them into 7th behind Charlotte. The Cats own tiebreaker.
Brooklyn's got an easy one vs. Orlando, but the Magic have been tricky lately. A win and a Bobcats loss clinches no-worse-than-sixth for the Nets. 
Toronto has Philadelphia, so go ahead and move that magic number for the division to three regardless of what happens in Orlando. 
Chicago plays Minnesota, which has been frisky lately. A win and a Wizards loss clinches no-worse than fifth for the Bulls.
East Nos. 7-9: Bobcats,  New York Knicks , Hawks 
So the Hawks beat the Cleveland Cavaliers and Pacers ... and lose to the Detroit Pistons . Sure. Why not? 
Can we just annex the eighth seed to the lottery and give a bye to the No. 1 seed? Because that would make Heat-Pacers on Friday way more interesting and already more interesting than a first-round series vs. the Knicks or Hawks. 
Atlanta's magic number remains three. 
The Bobcats, as stated above, move into sixth with a win over Washington by virtue of tiebreaker. 
Relevant games Wednesday: The Hawks have Boston at home, which should be a win. 
West Nos. 1-2: Spurs, Thunder, Clippers 
The Spurs are going to get the No. 1 overall seed, but they made it a bit harder on themselves by losing to the Wolves on Tuesday. They got clocked, and now OKC is 3.5 games back. 
OKC took care of business vs. the Sacramento Kings . They're not big on drama. 
Relevant games Wednesday: The Thunder play the second game in two nights in LA vs. the Clippers, and that one will probably decide who gets the two seed. The Clippers are 1.5 back, but OKC will still hold control of destiny. A Thunder win pretty much locks the Clippers into the three-seed. 
A win drops OKC's magic number for the two-seed to one. 
West No. 4: Rockets
Houston beat up the Los Angeles Lakers  because the Lakers are terrible. 
Relevant games Wednesday: Houston has the dreaded back-to-back in Denver but the Denver Nuggets have largely packed it in and the Rockets rested starters in the fourth quarter Tuesday. 
A win and a Portland loss to Sacramento (unlikely as it is) secures home court in the first round for Houston as the fourth seed. 
West Nos. 5-7: Blazers, Warriors, Mavericks
Dallas shot 94 percent in the first quarter vs. Utah. Whoever the Mavs paid to get their late-season schedule, it was money well spent. 
Relevant Games Wednesday: Portland hosts Sacramento, so this is their best chance to make one more run at Houston for the fourth seed, but they need the Rockets to lose to Denver. 
West Nos. 8-9:  Memphis Grizzlies , Suns 
OK, round 900, here we go. 
Relevant games Wednesday: Memphis faces Miami in a monster showdown at the Grindhouse. Phoenix is at New Orleans. 
A Suns win and a Grizzlies loss puts Memphis two games back with five games remaining. Memphis can get back into a tie, or basically have their playoff hopes dashed. Good times. 
Show Comments
Hide Comments
Wall threw down a similarly impressive dunk earlier in the series

LeBron played just under 44 minutes per game in the first round against the Pacers

Markelle Fultz is No. 1, followed by Kansas' Josh Jackson and there are some new names in the...
Leslie Alexander made his way onto the floor to complain about a call

The series shifts back to Washington for a pivotal Game 5

The Celtics and Bulls meet in Boston for a pivotal Game 5