NBA playoff system needs changing, and Silver is taking a 'fresh look'
The East keeps sending teams to the playoffs with worse records than some in the West. It's a seeding issue Adam Silver has on his plate.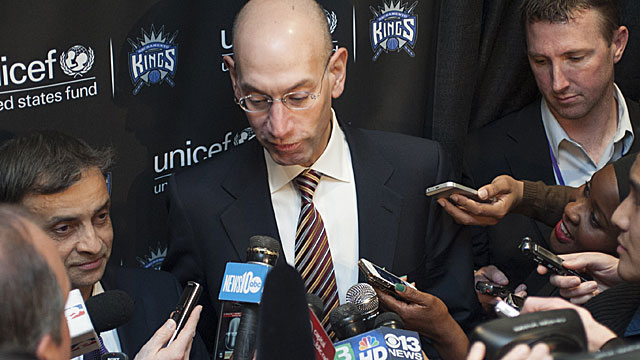 NEW YORK -- Adam Silver seems open to just about anything. Once a week or so since he became NBA commissioner on Feb. 1, there has been a headline about how Silver is willing to consider shaking up one tradition or another, changing how the league has operated for years, or even decades.
The lottery wheel. Draft eligibility. Stipends for college players. Based on the open-minded approach Silver exhibited Friday after his first Board of Governors meeting as commissioner, not even the NBA's sacred format of two conferences, six divisions and eight playoff teams from each conference seems safe.
As every new leader finds out, though, it's quite easy to say you stand for things and quite another to actually get them accomplished. But I like where this is going, especially where the league's flawed playoff format is concerned.
The current seeding system -- eight postseason teams from each conference -- has been in place in some form since 1984. A strong argument can be made that it has been broken, or at least not ideal, for half that time.
This season marked the 11th time in 14 years that the ninth-place team in the Western Conference had a better record than the eighth-place team in the Eastern Conference. That means that more often than not under the current seeding system, a team from the East (in this case, Atlanta, with a record of 38-44) has made the playoffs over a team from the West with a better record (in this case, Phoenix, which was 48-34).
This is a problem, no?
"What's come up is whether we should be reseeding the playoff teams, whether we should have a different process for selecting those teams that do make the playoffs," Silver said. "The sense of the room was that certainly no one was advocating a particular change at this time. It was more of a suggestion that this seems like a good time, when you have a transition of leadership, to take a fresh look at virtually everything. And I would add that to the list of those issues."
The NBA has been open to changing its playoff format in the face of criticism, and has done so numerous times over the years. The best-of-5 format in the first round was changed to best-of-7 in 2003; divisions were realigned in 2004 with the addition of the Charlotte Bobcats; and division winners were guaranteed a top-four seed in 2006, instead of a top-three seed. That change came about after Dallas was seeded fourth with the second-best record in the conference because it finished second to San Antonio in its division. At the same time, division-winning Phoenix and Denver were seeded ahead of Dallas despite having worse records.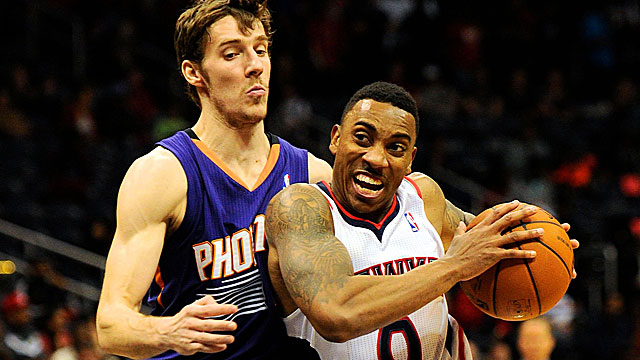 Under David Stern's leadership, there was a strong bias against making dramatic changes in response to one-time events. The case of the 2006 playoffs was that rare instance when something needed to be done, and quickly, to address an obvious flaw in the seeding format. But what about the problem the league faces now, and has been facing for years?
The current playoff system has been allowing a worse Eastern Conference team to advance to the postseason over a better Western Conference team 79 percent of the time since the turn of the millennium. The last time the eighth-place team in the East had a better record than the eighth-place team in the West was 1998-99. That isn't a one-time event. That isn't even a trend. It's a long-term imbalance between the conferences that has to be addressed.
"I'm still in the studying stage, so I'm not ready to state it's a concern because it's a function of what the best alternatives might be," Silver said. "It's not a new issue for the league, as you pointed out. It's been one that's been an issue for years."
This season, though, the disparity was pronounced. The Suns (48-34) tied for the 11th-best record in the league and didn't make the playoffs in a 16-team format. They had the same record as Toronto and Chicago, the third- and fourth-seeded teams in the East.
Only a late slump by the second-seeded Heat and surges by the Raptors and Bulls averted what would've been a historic gap between the No. 2 and No. 3 teams in a conference playoff bracket. The Raptors finished with a 48-34 record, six games behind second-seeded Miami. For much of the season and well into March, that gap was hovering around 10 games, which would've been a record. The biggest gap between the No. 2 and No. 3 teams in a conference since 1984 occurred in 1995-96, when the second-seeded Magic (60-22) were eight games better than the third-seeded Pacers (52-30).
It wasn't until the final three weeks of the regular season when the East's third-seeded team avoided the stigma of having the worst record for a No. 3 playoff seed in 30 years. That dishonor still belongs to the aforementioned 2005-06 Nuggets (44-38), who got the third seed under the old division-winner seeding rules.
Silver said Friday that he wants to preserve regional rivalries in the scheduling, but also pointed out that the current playoff system was created before teams started traveling as they do now, by charter.
"As travel becomes easier," Silver said, "it opens up more windows of opportunity for change."
What sort of change? A play-in tournament is a concept that Silver said Friday he finds "interesting," and one that might give a disadvantaged team like Phoenix a shot at a playoff berth this year. A top-to-bottom realignment, by which the NBA could still preserve traditional rivalries, but under a more workable format -- say, three 10-team conferences and no divisions -- would be radical but perhaps better for the game.
What about simply seeding the best 16 teams in order without regard to conference? If the NBA had done that this season, nine teams from the West (including Phoenix) would've made the playoffs, along with seven from the East (excluding Atlanta). The top-seeded Spurs would've faced 16th-seeded Charlotte in the first round, but as Silver mentioned, charter flights would ease the travel burden in the event some awkward East-West first-round pairings emerged. Anyway, in this case, the distance between San Antonio and Charlotte (1,200 miles) is almost half that between Western Conference first-round opponents Houston and Portland (2,200 miles). As long as the NBA wants to keep teams in the Eastern half of the country in the Western Conference -- like Memphis, New Orleans and Minnesota -- there are going to be travel anomalies.
The problem, of course, is if you do that, what's the point of having conferences at all? And if conferences don't matter, how can you have a balanced schedule and preserve traditional rivalries? With an 82-game schedule and 30 teams, you can't.
"I think owners have the view that we want to present the best possible product to our fans," Silver said. "So by definition, that means we should be looking at it, but it was not a hot topic [at the two-day owners' meetings]."
Any and all of these proposed remedies should -- and will -- be considered by the league's competition committee this summer, Silver said.
"I'm not against change, but I'm also a process person," Silver said. "I think you have to engage in a very deliberate process before you make substantial changes to a league that has been in existence and has been prospering for so long."
It's also worth keeping in mind that when you change things, there are unintended consequences. All of these examples of competitive disparity are nothing compared to what very nearly happened in 2007-08.
In the West, the Hornets, Lakers and Rockets came down to the wire in a three-way tie for the best record in the conference. Had they finished in a three-way tie, the NBA would've had a huge problem. The Hornets would've won the Southwest Division in a two-way tiebreaker with the Rockets. But in a three-way tie involving the Lakers, the Rockets would've emerged as the No. 1 seed based on head-to-head records. Thus, if the top-seeded Rockets had advanced to the conference finals against the second-seeded Hornets, New Orleans would've had home-court advantage.
Whoops. After that, the league decided to make division winner the first playoff tiebreaker. So before making more changes, Silver wants to be as sure as he can that they will be good for the product.
"The league is doing so well right now, I just want to be very deliberate and cautious about any major changes like that," he said. "It doesn't mean that we shouldn't make changes, and of course like any organization we should and we will. ... It's just the beginning of the process right now."
A complicated one with no clear answer and plenty of consequences.
Show Comments
Hide Comments
Our Latest Stories
Team upset about reportedly being called "cowards" by an internal source

Atlanta isn't looking to trade Paul Millsap, at least for now

Warriors forward continues his Rockettes act.
Noel could miss a significant amount of time after having minor knee surgery

San Antonio will be without its starting shooting guard, who is a strong wing defender

When George Karl first met Rudy Gay, the Kings forward told him "Welcome to basketball hel...