NBA Playoffs: Ranking threat levels of each postseason unit
A ranking of the most dangerous playoff teams to the least as the NBA playoffs kick off Saturday.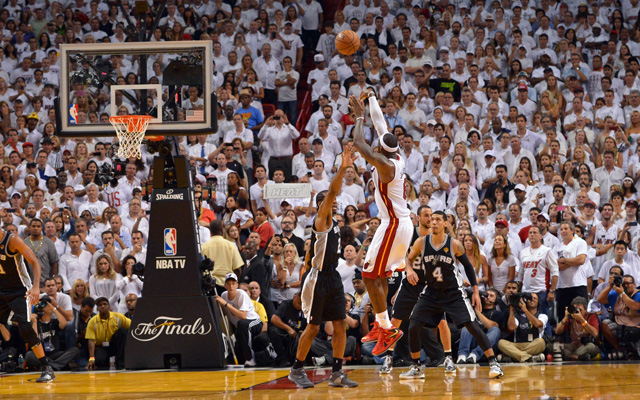 More NBA: Power Rankings | Expert Picks | Latest news, notes
"There's a storm coming," Miami coach Erik Spoelstra said Monday. He was talking about the second season, the real season, the postseason. The NBA Playoffs begin Saturday. 
What separates the NBA from other major sports is, with very few exceptions, the best team is going to advance. Matchup outliers create occasional havoc, but unlike the NFL, college basketball, or even baseball (subject to more random outcomes, same as hockey), the better team advances far more often than not. It's why the NBA produces the most legitimate champion of the major sports. 
But the best team often is not the team with the better regular-season record. The style of the playoffs, length of the season and momentum (which may not be as important as we'd believe) can determine the most dangerous teams more than regular-season results. 
This NBA Playoff Threat Matrix is not a ranking of who is most likely to advance past the first round, nor necessarily a gauge for most likely to win the title but the biggest "threat" to their opponents when factoring in the route you want your team to face. 
1. Miami Heat (No. 2 seed, Eastern Conference)
Why they're dangerous: They're the two-time defending champs with the best player on the planet (Kevin Durant had the best season; LeBron James is still the game's best player). They are stocked with veterans who have multiple championships and the experience to win tough games. They have a defensive gear almost no other team can hit, they have shot-makers who can make the biggest shots, they have X-Factor guys in Udonis Haslem , Chris Andersen and Norris Cole . They have three legitimate superstars who are top-five in their positions. In short: They're good. 
Weaknesses: Half-court execution. Tend to coast and waffle until the absolute last moment. Have trouble slamming the door on good teams. Won't have home-court advantage past the second round. Age and injury are very real concerns. 
Reasonable ceiling: A third consecutive NBA title. 
Reasonable floor: A second-round loss to Brooklyn or Chicago setting off a potential total teardown in free agency.
2. Oklahoma City Thunder (No. 2 or 3 seed, Western Conference)
Why they're dangerous: The MVP ( Kevin Durant is all but assured to win it.), along with maybe the best No. 2 weapon in the league in Russell Westbrook . OKC has a defense that has gone underrated all season (fifth in points allowed per possession). Serge Ibaka has a legitimate claim to the Defensive Player of the Year Award. Veterans who know how the playoffs work, even if they're frustratingly slow ( Caron Butler , Derek Fisher , Kendrick Perkins ). The Thunder have at least four chips on their shoulder. Losing last year largely because of injury. Losing in 2012. Being second to LeBron so often for Durant. The Spurs getting top billing.
And they are longer, faster and stronger than opponents. OKC is the only team with a legitimate matchup advantage over San Antonio.
Weaknesses: The offense can become predictable, which magnifies execution. They're not punishing you with scheme, they're beating you with ability, so if you can match them with scheme and ability, you can make a run at them. Late game execution is just "give ball to Durant!" The Thunder struggle with physicality, especially inside. They're going to have to rely on unproven players like Reggie Jackson , Jeremy Lamb , and Perry Jones  some during these playoffs. Fisher really does play a huge role for them, and that's not a great sign.
Reasonable ceiling: The first NBA championship in Oklahoma City. 
Reasonable floor: A second-round loss to the Clippers ... or ... maybe a first-round upset to the Grizzlies if you want to get creative, but that's really stretching it. 
3. San Antonio Spurs (No. 1 seed, Western Conference)
Why they're dangerous: I can already hear the cries of disrespect from the Lone Star State. The Spurs have the best record, home court throughout the playoffs and have won four titles. But they haven't won the title in seven years, and the two teams above them are the two teams to beat them in the past two seasons. Given all that, why they're dangerous?
They're the Spurs. They're the best NBA team over the past 15 years. 
Weaknesses: The debate over the bench unit, widely thought to be superior to last year's, is a serious one. Gary Neal , for all his faults, made big shots and had experience. Patty Mills is unproven and Marco Belinelli is ... shall we say, exciting. 
Their biggest issues are two-fold. They struggle with Miami and Oklahoma City's athleticism, and Tim Duncan and Manu Ginobili aren't the players they were, even last year. They're still great, and we're talking degrees here. From there, they struggle with hyper-athletic big men ( Dwight Howard ) and superlative shooters (Golden State). But most of this is nitpicking. They're right there with the two teams above them. 
Reasonable ceiling: A fifth NBA championship for coach Gregg Popovich and Duncan, a swan song for the most dominant run in NBA history over a decade and a half. If they don't see Oklahoma City or Miami, you'd have to think they win the title. 
Reasonable floor: I can pitch the Rockets' combination of Howard inside and the shooting volume on the perimeter messing with them. But Houston hasn't shown anywhere near a championship level of execution this season. I can't believe they're ready, yet. Reasonable floor is a loss in the Western Conference Finals. Their reasonable floor is lower than Oklahoma City's, realistically.
4. Los Angeles Clippers (No. 2 or 3 seed, Western Conference)
Why they're dangerous: A defense that has been statistically strong all year, but made very real strides the past two months. A monster frontcourt that can attack the glass and make plays at the rim. Blake Griffin has made the leap. A desperate Chris Paul is a dangerous Chris Paul. They have veterans and young players, shooters and playmakers. They have attitude and ability. They're a good team. 
Weaknesses: The defense has to prove it can sustain against a high-execution team in a series. Paul too often defers and blends into the background. Their offense can grind to a halt when teams double out of the pick and roll and force Paul to pass to Matt Barnes , making Barnes' shooting the swing variable. Can go into offensive lulls and Griffin struggles against bigger defenders. Injuries have been an issue all season. 
Reasonable ceiling: There's no reason this team can't make the Western Conference Finals, and if you want to really start talking me into it, I can buy them making the Finals. Not sure they'd have enough left at that point, but they're legitimately great. 
Reasonable floor: Assuming they open vs. Golden State, the injury Warriors center Andrew Bogut suffered significantly lowered the chances of a first-round upset, but that second-round matchup looks bad for the Clippers. OKC just has a little bit more in the tank. The Clippers might have been better off trying to get into the Spurs' bracket. A first-round loss would be devastating, but I can also conceivably see if it Curry just goes nova. 
5. Chicago Bulls (No. 3 or 4 seed, Eastern Conference)
Why they're dangerous: They want it more than you and Joakim Noah is a beast. The Bulls are just so consistent with their effort. They always give as much as they can. This is a problem for them in that they don't have a higher plane to reach, but it's a strength in that holy wow, are they tough to beat. You're never going to get them to quit. They will keep coming at you even if they're down 0-3. They fight to the bitter freaking end. 
Weaknesses: Their leading scorer is D.J Augustin and their second-best player ( Jimmy Butler ) shoots less than 40 percent. So yeah, scoring's a bit of an issue in playoff environments. 
Reasonable ceiling: Dispatch their first-round opponent with talent, upset their second-round opponent with effort (and Indiana's flailing offense is easy pickings for them), and then lose to Miami in five games in the Eastern Conference Finals because, well, we've seen this movie a few times. 
Reasonable floor: If Brooklyn winds up in the five-spot, they can beat Chicago. That's just a coin flip. Chicago beat Brooklyn last season because the Nets lacked mental resolve. The Nets have Paul Pierce and Kevin Garnett now. The Bulls can't out-effort them this time. 
6. Indiana Pacers (No. 1 seed, Eastern Conference)
Why they're dangerous: This is still the team with the best record in the East. Their defense is the best in the league and it's not really close. They have size, versatility, speed, great discipline, smart schemes and lineup versatility. They have experience built together, cohesion, a bad man in David West , multiple 7-footers, players who can make big shots in Paul George and C.J. Watson , and a great coach. 
Weaknesses: Well, they've kind of sucked the past two months, so that's not ideal. Scoring can go from "kind of an issue" to "Will they ever score another point?" very quickly. They're mentally shaken after the collapse. 
Reasonable ceiling: They get it together, flip a switch no one thinks they have, and beat Miami in a Game 7, thanks to home court. A title is a stretch, but if you're there, things can happen. 
Reasonable floor: They struggle to get past the first round and then Chicago comes in and beats embarrasses them in five games, setting up a possible fire sale. 
7. Brooklyn Nets (No. 5 or 6 seed, Eastern Conference) 
Why they're dangerous: Talent, experience and motivation. They were left for dead after a horrible start and rebounded. Paul Pierce and Kevin Garnett refuse to die, and they have about seven big-game players. They swept Miami (4-0) in the regular season. 
Weaknesses: They play Toronto or Chicago first round, then Miami or Indiana, then Miami or Indiana or Chicago. That's a tough road for an old team. Deron Williams isn't the same guy, their bench is still unreliable and their identity is still a little undefined. Pierce and Garnett are old. 
Reasonable ceiling: An upset over Chicago, an upset over Indiana, and a seven-game loss to Miami. You can talk me into them having a puncher's chance against the Heat, but I just can't consider it "reasonable." 
Reasonable floor: Chicago or Toronto clocks them in the first round and it turns out they were only good because they play in the East. 
8. Houston Rockets (No. 4 seed, Western Conference)
Why they're dangerous: Have one of the league's best overall centers, the best shooting guard ... and shooters everywhere. They can run and gun with anyone. 
Weaknesses: Their late-game offense resembles a drunken ballet, their perimeter defense is a mess and they'll rely on a lot of unproven playoff players. 
Reasonable ceiling: Blister Portland, upset San Antonio with matchups, lose in the conference finals in six games. 
Reasonable floor: San Antonio sweeps them in the second round. 
9. Toronto Raptors (No. 3 or 4 seed, Eastern Conference)
Why they're dangerous: Everyone's underrating them, when they're the likely third seed. They have depth, size inside with Jonas Valanciunas and Amir Johnson . Kyle Lowry and DeMar DeRozan make up maybe the best backcourt in the East. And this team believes, which is dangerous. They have nothing to lose. 
Weaknesses: Defensive schemes can solve most of their players, who have almost no playoff experience. They close games by giving the ball to John Salmons . 
Reasonable ceiling: A thrilling first-round victory leads to a noble second-round, six-game loss to Miami. 
Reasonable floor: The Nets wind up facing them in the first round, and spring the upset. You can talk me into Washington knocking them off but you have to get awfully creative. 
10. Memphis Grizzlies (No. 7 or 8 seed, Western Conference)
Why they're dangerous: It seems excessive to put them above so many, but consider a few things. Memphis had an awful start thanks to a new coach getting adjusted, then had major injuries to Marc Gasol and Quincy Pondexter  But had things gone normally, this is likely the fifth seed. They have playoff experience, size, and can play an effective playoff style. They have experience vs. Oklahoma City, the Clippers and San Antonio (though the latter does not help them much). This is probably the second-most mentally tough team in the West behind San Antonio. Nothing rattles them besides San Antonio. Their floor is lower than most but so is their ceiling. 
Reasonable ceiling: A first-round upset over Oklahoma City isn't insane, followed by a seven-game win over Houston. Then they get killed by San Antonio in the Western Conference Finals ... again. 
Reasonable floor: They land in the eighth seed and are swept by San Antonio. 
11. Golden State Warriors (No. 6 seed, Western Conference)
Why they're dangerous: Steph Curry is inhuman. He is one of the truly unguardable players in the league and can swing a series. When they get in a shooting rhythm, they're nearly unstoppable because they make even bad shots. Their defense was underrated for most of the year, but the loss of Bogut changes that dynamic. Before Bogut's injury I would have had them behind the Clippers. Not now.
Weaknesses: They lost their best interior defender and are down to Jermaine O'Neal as viable center. After last season's playoff run, they simply don't work as hard for good shots. They expect stuff they throw up to go in, and that's not going to work. Curry is going to face a lot more beatings than last year, when he and Mark Jackson complained constantly about how physical everyone was with them. Jackson has yet to show he can make strategic adjustments to take them past a series with matchup disadvantages, or that they can win without shooting the lights out. 
Reasonable ceiling: Let's imagine the small-ball approach works. They put David Lee at center with Draymond Green , spread the floor, and just hit shots. They can make the second round. From there, they can out-shoot the Thunder, who also struggle with small-ball lineups. What I'm saying is you can talk me into a Western Conference Finals run, but Jackson's sermon is going to have to be worthy of the Mount. 
Reasonable floor: The Bogut injury sinks them, the Clippers tear them apart inside and the heat on Jackson increases, risking losing the locker room due to ownership demands. 
12. Portland Trail Blazers (No. 5 seed, Western Conference)
Why they're dangerous: I could be overrating the Blazers. They had a fantastic regular season and have a great mix of superstars ( LaMarcus Aldridge and Damian Lillard ) and veteran talent. They can hit shots like few teams, and for much of the season were the best team in the West. 
Weaknesses: Their defense just isn't up to par. That's a problem with Dwight Howard and James Harden first round. 
Reasonable ceiling: An upset of Houston, a second-round noble effort vs. the Spurs, losing in six games. 
Reasonable floor: Houston kills them inside and out, and the defense once again proves their undoing, as expected all season.
13. Charlotte Hornets (No. 6 of 7 seed, Eastern Conference)
Why they're dangerous: They don't care. This franchise is such a joke, and no one expected them to be here. They play a tough, bruising inside game and they are one of the most disciplined defenses you'll find. Kemba Walker can hit big shots and Al Jefferson can eat up teams inside. 
Weaknesses: They're unproven, not all that talented and can't shoot. If they could shoot, this would be a lot different. And they're also likely playing the Heat. 
Reasonable ceiling: They push Miami to seven games, setting up the future for a franchise that finally has hope. Alternatively, the Bobcats climb to six and upset Toronto with toughness and strength, then get beat by Miami in six games.
Reasonable floor: The Heat annihilate them in four games. 
14. Dallas Mavericks (No. 7 or  8 seed, Western Conference)
Why they're dangerous: I love the Mavericks' franchise. I really do. I think Mark Cuban is the best owner in sports, Dirk Nowitzki is one of the top three players of his generation and their veterans have done a great job. Rick Carlisle is probably the second best coach in the league, honestly. So please understand that their ranking here is not reflective of bias or that I discount what they accomplished.
They can score with anyone. If they wind up in an offensive-centric series, they're going to make it tough on the other team. Nowitzki is the biggest X-Factor you can have. He and Steph Curry are the two guys who can tilt a series with offense alone. If he goes into 2011 mode, they can simply will their way over anyone.
Weaknesses: This team cannot defend. Against other Western Conference opponents, they give up 110 points per 100 possessions. That's a blood fountain of a wound. Jose Calderon and Monta Ellis on the perimeter is a lot of the problem, and with Dirk not a great interior help defender, it gets tougher. Samuel Dalembert struggles to rotate, and Brandan Wright still is uneven in decision-making. They're going to create some tight games with their offense, but you need defense to win in the playoffs, as cliche as that is. 
Reasonable ceiling: Nowitzki goes 2011 and the Mavericks' high-powered offense goes Golden State 2007 (ironically) as the Mavericks upset the Thunder before losing to the Clippers in a tough seven games. 
Reasonable floor: Oklahoma City or San Antonio wallop them because they can't stop anyone and they lose in a five game shootout series. 
15.  Washington Wizards (No. 3 seed, Eastern Conference)
Why they're dangerous: Veteran leadership plus John Wall 's first playoff appearance makes for an explosive combination. They can shoot with Bradley Beal, Trevor Ariza, and Martell Webster, and they can score inside. Their likely first-round matchup isn't bad if it's Toronto. And again, Playoff Wall. 
Weaknesses: They're inconsistent, struggle defensively at times, and the offense just does unimaginably stupid things at times. How can I put this delicately? I don't like their coaching matchup no matter who they play. 
Reasonable ceiling: They make a 2009-Bulls like run and that's enough to knock off the Raptors, losing to Miami in six games in the second round. Or, they give Miami or Chicago a tough run in seven games, setting up their future. 
Reasonable floor: They wind up in the seventh spot and Miami sweeps them. 
16.  Atlanta Hawks (No. 8 seed, Eastern Conference)
Why they're dangerous: Jeff Teague has another playoff gear, Paul Millsap is a beast, they're well coached and they have nothing to lose. 
Weaknesses: They're not very good. If they had Al Horford , this is a much different deal. But they don't have game-changers to shift a series, and there's only so much they can do offensively against Indiana.
Reasonable ceiling: Indiana's collapse gives them an opening and they ride the momentum to a massive first-round upset, before losing to Miami in five games. 
Reasonable floor: Indiana gets itself together and pounds the Hawks into the pavement. 
The point guard, who has requested a trade, is not fond of the way James hangs onto the ba...

Either that or he does know what they are and just knows SEO really well

Big man is returning to Florida, where he played in college, on a one-year minimum deal
Meeting comes amid reports the free-agent point guard has been discussing a one-year deal

Don't even think about it -- LeBron's reportedly not going anywhere

The point guard's unhappiness reportedly helped lead to his eventual trade request