NBA publishes its constitution and by-laws on media NBA site
In light of the Donald Sterling scandal, the NBA has now made its constitution and by-laws available on the NBA media site.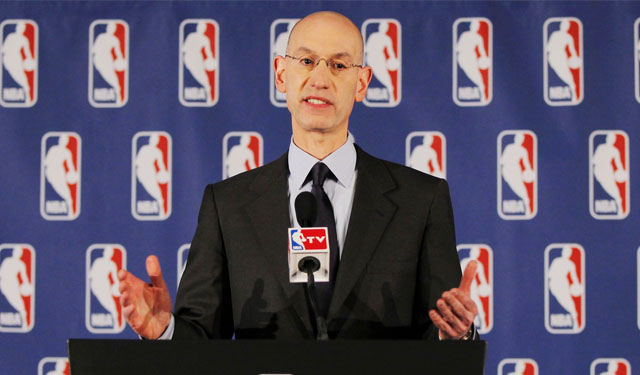 More postseason coverage: Playoff schedule, results | Latest news, notes
During the time leading up to the NBA's decision to ban Donald Sterling for life and start making steps toward forcing a sale of the Los Angeles Clippers, there was quite a bit of confusiong about what exactly the commissioner had the power to do in this situation. Most people had a broad idea of what punishment could be give but we didn't have access to the constitution of the league and the by-laws.
That's no longer the case. The NBA has made the constitution and by-laws available on the NBA's media site and you can download/view the PDF document at this link. 
The most relevant rule to what the commissioner was able to do in the Sterling situation is found in Article 24(l), which is the "Best Interest of the Association" clause. The commissioner is able to give any punishment he sees fit when it's not clearly covered by the constitution and by-laws. (Via Deadspin)
The Commissioner shall, wherever there is a rule for which no penalty is specifically fixed for violation thereof, have the authority to fix such penalty as in the Commissioner's judgment shall be in the best interests of the Association. Where a situation arises which is not covered in the Constitution and By-Laws, the Commissioner shall have the authority to make such decision, including the imposition of a penalty, as in his judgment shall be in the best interests of the Association. The penalty that may be assessed under the preceding two sentences may include, without limitation, a fine, suspension, and/or the forfeiture or assignment of draft choices. No monetary penalty fixed under this provision shall exceed $2,500,000.
This eliminates the confusion in the future and gives everybody the answers they need when it comes to how the league operates and what they can do in certain situations. 
(H/T - Ball Don't Lie)
Lillard said 'good luck' to the champion Warriors if the Blazers acquire Carmelo Anthony

Now NBA stars are invading your neighborhoods and looking for your hoops

Raptors want improved ball movement and spacing, and the big scorer ran the show some last...
The 15-year veteran says his decision to return was influenced by his coach's plea

Shaquille O'Neal certainly knows how to bring attention to himself

Warriors, who are not leaning on taxpayers for the arena, plan to pay back the fee after 30...