NBA releases 2014-2015 schedule: Spurs host Mavs in season opener
The NBA season will not begin featuring LeBron James for the first time in seven years as the league released its schedule Wednesday.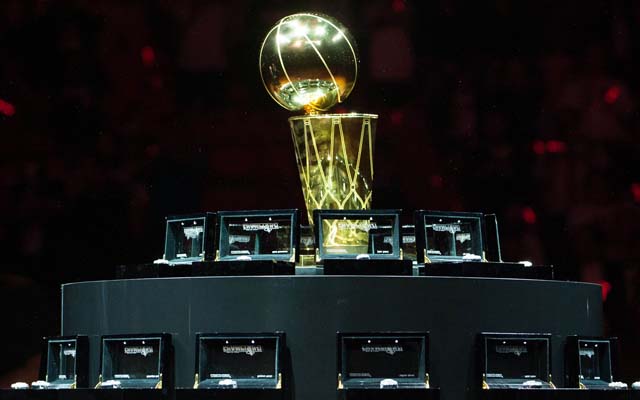 2014-15 NBA Schedules: Team-by-team | Day-by-day | National TV games

The NBA announced its 2014-2015 schedule Wednesday, and for the first time in seven years, LeBron James will not feature on its opening night.
The season opens Oct. 28 with the defending champion San Antonio Spurs raising their fifth banner before taking on the Dallas Mavericks . In a late-game matchup, the Rockets travel to Los Angeles to take on the Lakers in Kobe Bryant 's first game back from the leg fracture that ended his season after just six games last year.
It's the first time since 2007 that only one conference has been featured on opening night, and a sign of how weak the Eastern Conference is that the league is literally ignoring it in its premier. The decision to include the Lakers is bad for competitive reasons, but good for ratings, as they always draw and Bryant's return will likely overshadow even the Spurs' championship celebration.
James, meanwhile, will open with his new old team on Oct. 30 against the Knicks before facing the Chicago Bulls  on Oct. 31.
The annual Christmas quintuple-header will be headlined by James' first trip back to South Beach as the Cavaliers take on the Heat. The Spurs will host the Thunder in a rematch of the Western Conference Finals, the Clippers and Golden State Warriors will continue their blood feud in LA, the Knicks host John Wall and the up-and-coming Wizards, and Chicago plays host to Bryant and the Lakers.
The NBA's annual star-studded MLK Day set features Pistons-Hawks, the Mavs taking on the Grizzlies, the Bulls visiting James and the Cavs, and the Lakers travelling to Phoenix to take on the Suns.
Some interesting season finales on April 15, which could have playoff implications, include Cavs at Wizards, Nuggets at Warriors, Hornets at Raptors, Spurs at Pelicans, and Pacers at Grizzlies.
The national TV appearances slate is stacked toward the major markets, no matter how bad their teams are, once again. Here's a list of the top teams in rank of national TV appearances, with their number of those appearances on NBATV in parentheses.
Los Angeles Clippers : 32 (9)
Oklahoma City Thunder : 32 (7)
Chicago Bulls: 30 (5)
Cleveland Cavaliers : 29 (4)
Los Angeles Lakers : 28 (8)
Golden State: 25 (6)
Houston Rockets : 25 (8)
San Antonio Spurs: 25 (6)
New York Knicks : 23 (7)
Portland Trail Blazers : 23 (7)
Miami Heat : 20 (4)
Dallas Mavericks: 18 (7)
Phoenix Suns : 17 (7)
Washington Wizards : 15 (5)
Denver Nuggets : 12 (7)
Brooklyn Nets : 10 (6)
New Orleans Pelicans : 10 (8)
Memphis Grizzlies : 9 (8)
Toronto Raptors : 9 (5)
Indiana Pacers : 8 (3)
Charlotte Hornets : 7 (5) Sacramento Kings : 7 (4)
Atlanta Hawks : 4 (2)
Boston Celtics : 4 (3)
Minnesota Timberwolves : 4 (2)
Detroit Pistons : 3 (1)
Utah Jazz : 3 (2)
Orlando Magic : 2 (2)
Philadelphia 76ers : 2 (2)
Milwaukee Bucks : 2 (2)
Show Comments
Hide Comments
Our Latest Stories
Blake Griffin has been working on his 3-point shot this offseason

Jason Kidd has John Stockton giving advice to his point guards during training camp

Could Kevin Garnett be helping to coach LeBron in Cleveland?
KD and Klay can't seem to miss a shot for about 75 seconds

The recently retired Kevin Garnett joined Doc Rivers and Clippers for practice on Thursday

They don't need to run necessarily but at least get the offense going much quicker