NBA selling 'We Are One' T-shirts to benefit anti-discrimination
The NBA is selling "We Are One" T-shirts, a phrase used by the Los Angeles Clippers post-Donald Sterling, to benefit anti-discrimination groups.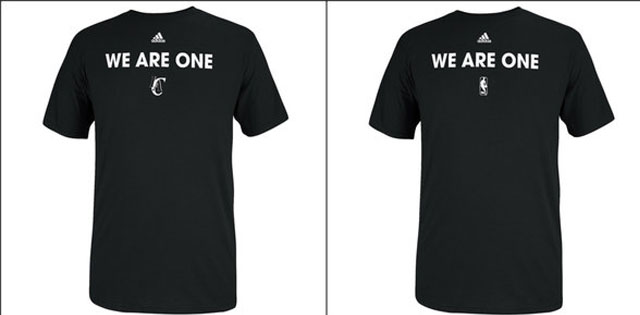 More postseason coverage: Playoff schedule, results | Latest news, notes
With the Donald Sterling debacle in the process of being resolved and removing the Los Angeles Clippers' owner from the league completely, the NBA with the help of the Clippers is stepping up in another way to bring some goodwill to what the league and its players have gone through during this episode. The Clippers adopted the "We Are One" slogan with a black background shortly after Sterling's racist comments came to light, and the NBA is selling this on a T-shirt in its NBA online store.
All of the proceeds will from the sales of this merchandise will benefit anti-discimination and tolerance organizations, as the players and league cotninue the healing process from going through such an unnecessary ordeal. From the LA Times: 
The National Basketball Assn. announced Sunday that it will be rolling out a line of merchandise emblazoned with the "We Are One" slogan that became a rallying cry for the Los Angeles Clippers franchise and its fans in the wake of the Donald Sterling scandal. 

The announcement reads, in its entirety, as follows:

"The National Basketball Association (NBA), in cooperation with We R One Clothing, Washington D.C., announced today that beginning Sunday, May 4, fans can purchase a variety of products manufactured and distributed by official NBA licensees that read 'We Are One,' the Los Angeles Clippers' newly adopted slogan for leaguewide unity.  All proceeds from merchandise sales will benefit anti-discrimination and tolerance organizations.
The T-shirts come in four different styles. There are "We Are One" shirts in a men's style of shirt with either the NBA or Clippers' logo on it under the lettering of the slogan. There is also a women's cut with the Clippers' logo on it and a youth style with the Clippers' logo on it. The men's styles sell for $23.95 each, the women's style sells for $29.95, and the youth shirt sells for $19.95. 
Show Comments
Hide Comments
Phoenix Suns' top pick was a bit off the mark with ceremonial first pitch at Diamondbacks...

Lakers traded Russell to the Nets along with Timofey Mozgov in exchange for Brook Lopez and...

The Lakers introduced their latest high draft pick Friday afternoon
Veteran guard has spent the past six seasons with the Clippers

The veteran guard had a contract guarantee that would have triggered if he wasn't released...

Griffin has been with the Clippers for his whole career. Is this the end of an era in LA?