NBA suspends DeMarcus Cousins for hitting O.J. Mayo in the groin
Cousins will miss Wednesday's game after being suspended for striking Mayo in the groin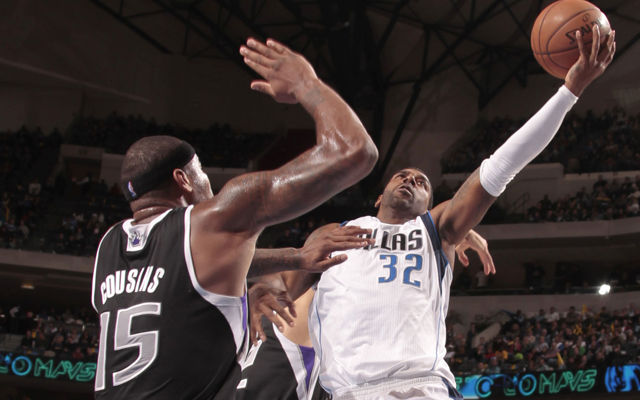 Cousins will miss Wednesday's game.
(Getty Images)
The NBA on Wednesday suspended Sacramento Kings forward DeMarcus Cousins one game for "striking O.J. Mayo of the Dallas Mavericks in the groin" Monday. 
Here's the play: 
Mayo was seriously livid during the play and complained to both the officials and his coach. Can you blame the man? After the game, he said Cousins has "mental issues."
Cousins defended himself Wednesday, saying that it was unintentional, and questioning Mayo's questioning of him.  
This story is, in a nutshell, DeMarcus Cousins. He clearly nailed Mayo in the groin on purpose, and then not only tries to say it wasn't on purpose (which is fine, he's trying to avoid the penalty), but he goes after the guy he hit. Cousins has so much talent, so much ability, such a bright future. But he's such a headache for everyone. Kicked off of Team USA Select, complained about by veterans and younger players alike, Cousins has a terrible reputation, and all of this without a single off-court issue.
This will be the third game Cousins has missed this season due to suspension, after missing two games for his altercation with Sean Elliot of the Spurs' broadcast team. 
Show Comments
Hide Comments
And Grizzlies coach David Fizdale didn't exactly disagree

Toronto survives, but struggles to do so

San Antonio will face the Houston Rockets in the second round
The 40-year-old is coming up big in the playoffs

Toronto eliminated Milwaukee in Game 6 on Thursday

Surgery is to "repair core muscle-related injuries"