NBA to appoint acting Clippers CEO in wake of Donald Sterling ban
League announces plan to insert someone to supervise team after banning owner last week.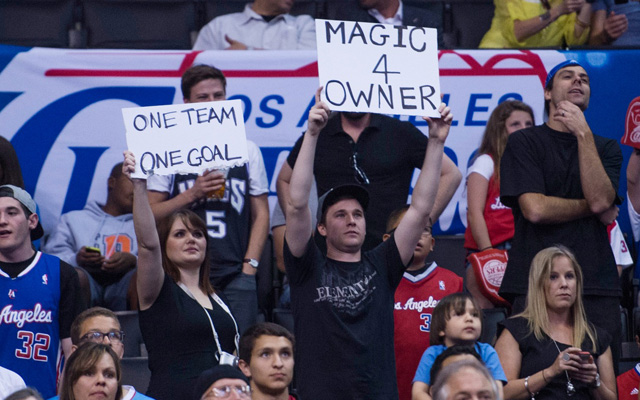 More: Sterling banned for life | Latest updates | NBA news
The NBA banned Clippers owner Donald Sterling for life and initiated the process of terminating his ownership of the team this week. On Saturday, the NBA announced it has begun the process of anointing a CEO to manage the team during this process. From the NBA: 
"The NBA, in consultation with Los Angeles Clippers management, will be appointing a chief executive officer to supervise the team's operations," it was announced today. Mike Bass, Executive Vice President, Communications, said, "The best way to ensure the stability of the team during this difficult situation is to move quickly and install a CEO to oversee the Clippers organization. The process of identifying that individual is underway."
The move comes a day after an in-depth report on what has gone on with the Clippers since the recordings of Sterling making racist comments leaked last weekend, as well as a depiction of how close team president Andy Roeser is to Sterling was posted by ESPN.com. Roeser has been running the team with Sterling banned from all team functions. 
Whether Roeser remains in his current capacity remains to be seen. The NBA Advisory Committee voted last week to pursue termination of Sterling's ownership. Sterling reportedly plans to sue. 
Sterling's wife, Shelly Sterling, issued a statement supporting the league's effort to find a new CEO for the organization:
"I spoke with Commissioner Adam Silver this week to tell him that I fully supported his recent swift and decisive action," said Ms. Sterling. "We also agreed at that time that, as a next step, both the league and the team should work together to find some fresh, accomplished executive leadership for the Clippers. I welcome his active involvement in the search for a person of the utmost character, proven excellence and a commitment to promoting equality and inclusiveness.

"As a co-owner, I am fully committed to taking the necessary steps to make the Clippers the best team in the NBA," she said.  "That has been my aspiration ever since 1981."
Show Comments
Hide Comments
Celtics point guard does not need anyone to hype up his defense

The Bulls had it, they had it ... and ... it's gone

The Bulls found they were without hot water following their Game 5 loss
Wall finished with 20 points and 14 assists in win over the Hawks

Durant and the Warriors swept the Trail Blazers in their first-round series

Atlanta is facing elimination, but there's a big adjustment it can make