NBA Trade Deadline: Winners and Losers
Winners and losers from the 2012 NBA Trade Deadline including the Lakers, Derek Fisher, the New Jersey Nets, David Kahn, and more.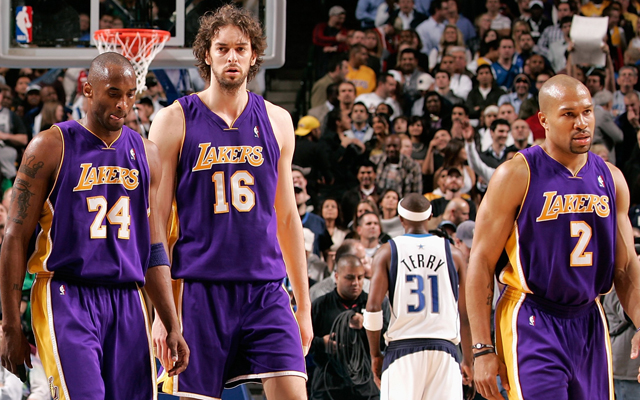 The Lakers improved their team, but lost a leader in Derek Fisher at the trade deadline.
(Getty Images)

The 2012 NBA Trade Deadline wasn't short on drama, even if there weren't the team-altering deals that we saw in 2011. Derek Fisher, a long-time Laker legend for his leadership and clutch shots, went to Houston and L.A. moved forward to try and win now. The Blazers went into firesale mode, and the Nuggets, Clippers, and Wizards made a three-way trade with huge impacts both short and long-term for their franchises. 

Who came out on top? Who struck out? Here's a look at the winners and losers at the NBA trade deadline, from Matt Moore and Royce Young. 
Winners:
Los Angeles Lakers 

The Lakers decided not to upheave their entire roster. They didn't trade one of their All-Stars, and they didn't (couldn't) make a swing at Dwight Howard. They opted for the other approach. Take a good team that seemed incomplete and try and complete it. That takes some pain. Trading Derek Fisher, the man of the .04 seconds miracle? The team leader, the union leader, the favorite teammate of Kobe Bryant and the man so many Lakers have credited with keeping the team together and focused? That's pain.

But what they gained was so much more. Point guard hasn't been a hole, it's been a wound. A gaping abcess rotting away that you could see killing the Lakers every time they faced a Chris Paul, a Steve Nash, even lesser guards. They need a point guard to run Mike Brown's offense, and they need a guard who can at least stay in front of the opponent. Fisher couldn't do that. It happens. This is a more complete team with Sessions, a capable non-star who can have nights of brilliance and deliver the right pass, but isn't so big as to take Bryant's shots.

Jordan Hill? The type of player who the Lakers magically turn into contributors in the playoffs. Trevor Ariza, Josh Powell, Sasha Vujacic, D.J. Mbenga, Mark Madsen the Lakers' history is filled with small-time contributors who exceeded expectations because, well, the other guys were so good the defense had to overeact. He has a great rebound rate and shoots efficiently. Mike Brown will get him involved on defense, and the best thing about him, he's not Troy Murphy. It's not an upgrade, but it's an addition for nothing.

The picks were worthless. L.A. is built to win now, win constantly, win forever. They don't need rookies. The Lakers shed salary, which is a concerning trend, but they also made their team better, a reassuring trend. Big win for them.  -- Matt Moore

Los Angeles Clippers

What was the biggest hole the Clippers had? Shooting guard. And what did they do to fill it? Got a quality scoring option virtually for free.

Now don't get me wrong, Nick Young isn't a major prize or some kind of coveted player. But he is a scorer, a guy that can create his own shot and someone that certainly isn't afraid to throw anything up. Pretty much precisely the kind of player the Clips need at that 2-guard slot. And like I said, all they had to let go of was Brian Cook (who wasn't playing) and a second round pick they didn't need.

The Clippers biggest issues this season have been consistent scoring and defense and while Young definitely doesn't aid them on the defensive end, he's a good option to have in the fourth quarter alongside Chris Paul and Blake Griffin. Mo Williams has been solid off the bench, but he's not a genuine 2. Young is. He's 6-6, can jump and will hit an open shot. I don't necessarily think this deal puts the Clips over the top or anything, but considering how very little they gave up to get something they desperately needed, I think it's a big win. -- Royce Young

Ramon Sessions

A player who has been worthy of a starting spot for a while finally gets his chance on a contending team with legitimate title aspirations. Sessions is a better creator than shooter, but shoots more than he creates. His aggressiveness is just right for this version of the Lakers, though, and his defense under Mike Brown should improve. It's a great situation for a young player who's clawed his way up to this point. -- Matt Moore

Cleveland Cavaliers

I was on the fence about their move of Sessions, because I'm so high on him. Yes, he was expiring and would be leaving. Yes, they only had 20-some-odd games left with him. But couldn't they get better value than terrible contracts with another year left on them and a 25-plus pick? Then I thought more about it, and saw that the Cavs also got the right to swap their Heat pick obtained in the LeBron James sign-and-trade in 2013 with the Lakers' pick, which could be substantially worse if the Lakers don't improve considerably on their older core. 

The Cavs now could have four first-round picks in 2012 and more picks in the future. They can package to move up or for a player. If yoiu're rebuilding, this is the way to go. Kyrie Irving, Tristan Thompson, and picks on picks on picks. 

It's a big-picture plan, and a good one. -- Matt Moore

JaVale McGee

There's a whole lot of raw ability built up in that gangly seven-foot frame. But McGee's time in Washington has basically devolved to him becoming a running joke. He was the example of how hapless the Wizards were as his stupid plays and anti-highlights became a nightly thing. Here's the secret about McGee though: He might be a knucklehead, but he's not a headcase. He plays hard. He tries. He competes. He does dumb things and makes you say, "WHY JAVALE WHY?!" but you won't doubt the guy is giving it a good effort.

And at just 24, the guy still has a ceiling. He just needs a change of scenery, a coach willing to develop him and help him mature and an environment conducive to improving and growing. He's got all of that now. George Karl is a perfect coach for him, he's playing for a good team for the first time in his life and the Nuggets are a well run organization.

McGee gets to go from being the poster boy of futility in Washington, to a role player on a playoff contender. Winning can bring the best out of players. It's tough to go out and do things when you're playing on a team like the Wizards. But get in a place where your bonehead play might end up costing you home court advantage or a playoff game and you'd be amazed at how knuckleheaded players play. McGee gets to play in a situation where he means something, and that could bring out the best in him. Finally. -- Royce Young

David Kahn

There were trades to be made. Kahn's got the Wolves in a position to compete for the postseason. He could've gone after Jamal Crawford, he could've sold off Michael Beasley, he could've tried to bring in point guard help. He could've done something dramatic like deal Derrick Williams for a bigger name player. But he didn't. He stood pat. For once, he stopped and believed in his process.

He's got a really nice blossoming core centered around Ricky Rubio, Kevin Love and Williams and he's going to let the kids play and grow. Losing Rubio hurts because it'll be tough to make a playoff run but instead of being shortsighted about scrambling for the eight-seed, Kahn stuck to the plan and kept his assets in his pocket. -- Royce Young

Spurs

Do you believe that Greg Popovich can get more out of Stephen Jackson than he did out of Richard Jefferson? That's what it comes down to. The two profiles are similar if the players aren't. And the approach is vastly different. Jackson will likely burn himself out to prove a point that he is Pop's kind of player. The money's not great for $10 million in 2013, but the Spurs might be able to do magic with it, either through trade or buyout if necessary. Low risk move for them. -- Matt Moore

Pacers

Gave up nothing to get a competent combo-guard to boost their offense which is their one area of concern. Not a big swinging move but an attempt to address a need without upsetting what's working. Nice pickup. -- Matt Moore
Losers:
New Jersey Nets

Never count your chickens before they hatch. And never celebrate your superstar before he's in your jersey. The Nets have now swung out on LeBron James, Dwyane Wade, Chris Bosh, Carlos Boozer, Amar'e Stoudemire, Carmelo Anthony, Andrei Kirilenko, and Dwight Howard in trying to pitch a superstar. The Dwight Dream is still alive in Brooklyn, but today was a setback.

Gerald Wallace, though? He'll make the team better. He has an option for next season so it's a rental, and the pick is a bit of a stretch. But the Nets might be able to make the playoffs and give the impression they're not terrible, which is crucial for pursuing Dwight.

They had two options once Dwight waived the ETO. Trade Deron and start building long-term, for the future, being careful with flexibility and drafting well. Or double-down on your mortgage to try and get Dwight to make all your dreams come true. Now they have to talk Deron into staying on what might be an average, might be a terrible team, and then get Dwight to sign on. They've leveraged their future again. But they are a slight better team.

They're losers not for what they did, but what they never got the chance to do, introduce Dwight at an arena that's not even open yet. -- Matt Moore

Portland Trail Blazers

Considering the circumstances, the Blazers are probably actually winners. This roster wasn't going anywhere, the team had quit and it was time to throw the dynamite in. Blowing up the team was absolutely the right call. But two reasons they're a loser on deadline day:

1) They didn't go all the way. I'm not saying they should've dealt LaMarcus Aldridge, but they still have Jamal Crawford and Raymond Felton on the roster, two guys that supposedly tried to orchestrate a mutiny. There were assets to be had for those guys but the Blazers couldn't find acceptable takers. Crawford has a player option and Felton is expiring, so potential cap flexibility is on the horizon, but having those two on the roster to start the rebuild isn't favorable.

2) Despite all the injuries and issues, the Blazers were widely considered to be a legit Western contender two weeks into the season. And now, just a couple of months later, the entire roster is being obliterated. Again, it's the right move and it had to be done, but it's a pretty sobering day for Rip City. To go from believing in a future "Big 3" of Brandon Roy, Aldridge and Greg Oden to firing Nate McMillan, releasing Oden and trading key pieces for cap fodder and scraps is a pretty crazy turn of events. -- Royce Young

Steve Nash

You think Dwight Howard's loyal? Steve Nash is loyal. Never once did the Suns have to go through the public humiliation of what to do with their star because Nash wasn't having any of it. He said he's committed to the organization and isn't going to run off to chase a ring.

But still, at 37, he doesn't have a lot of opportunities left. The Suns aren't going anywhere any time soon and Nash is too good to toil away in the lottery during the twilight of his career. He deserves better. He deserves the chance to finish his career in the postseason, playing with a player like Howard or whoever. He's not disappointed because that's not who he is, but I think we all want to see Nash in the playoffs again. -- Royce Young

Washington Wizards

The franchise needed a culture change. Something had to happen. The Wizards haven't been stuck in neutral. They're driving on the highway with the parking brake on. They stink. And they're ruining a good car (John Wall).

But the move they made to start to change that is a bit curious. It's a classic Ernie Grunfeld decision. He went and got a big name, a supposed "centerpiece" in Nene, but he also just blew up cap room and committed to a 29-year-old undersized big man that relies on his athletic ability for five years and $67 million. And while Nene has been good in Denver, how's he going to play when he walks into an arena a quarter full of fans that are angry and disgruntled? How's he going to respond for playing for a bad team?

The Wizards put their eggs in the Nene basket and while they might win more games, they aren't any better off. -- Royce Young

Warriors

Taking on money for a player who couldn't succeed in the Spurs' system. That's not good. Complicates the situation with Dorell Wright and Klay Thompson. It's just kind of weird. It's not that bad, it's just not really all that good. -- Matt Moore

Derek Fisher

Fisher, as much as any player, knows this is a business. But he also was traded from the team that he'd very much committed most of his career to. He had given the Lakers so much for so many years, on and off the court, to be banished because he couldn't physically compete had to be a shock. Fisher will handle it profesionally, as he does everything, but this is yet another reminder that there is no sentimentality allowed when the trophy is on the line.  -- Matt Moore
Show Comments
Hide Comments
He says he plans to become a bigger offensive threat, and numbers suggest he could

He continues to defend the system at every turn, putting any shortcomings on the players

It's a very interesting tagline, to say the least
Boston has a cupcake slate to close the 2016-17 season

Wade's cousin was an innocent bystander in a Chicago neighborhood shooting

The Pistons reserve forward says he looked up to his sister